We normally don't report on anything to do with politics on DDO Players, but this is making some waves in the gaming community, so I thought I should report on this.
In a follow up letter to the one that Gen Con LLC's CEO and owner, Adrian Swartout sent out Thursday to all attendees. He lays out the future and what to expect from Gen Con this year. In light of Indiana Governor Mike Pence signing into law the controversial bill SB 101. The law, which goes into effect July 1, prohibits state and local governments from "substantially burdening" a person's exercise of religion unless a compelling government interest can be proved. Although the language of the legislation doesn't mention sexual orientation, it's been widely criticized as opening the door to legalized discrimination, as business owners could cite religious beliefs as a basis for denying service to gays and lesbians. (Pence argues that interpretation is a "misunderstanding," saying at a press conference, ""This bill is not about discrimination, and if I thought it legalized discrimination I would have vetoed it.")
Gen Con has enjoyed many years of successful partnerships with the local Indianapolis business community, and we are grateful for their many positive responses to our letter. Visit Indy, the Indy Chamber, numerous local businesses, and Indianapolis Mayor Greg Ballard have spoken against the passage ofSB 101. It is clear that the Indianapolis business community is not in favor of the state's legislation. We have received hundreds of messages from industry members and Indianapolis companies doubling down on their support to welcome all Gen Con attendees.
Mr. Swartout then goes on to say :
We have a contract with the city of Indianapolis through 2020. Gen Con is an economically impactful event for locally owned businesses in the Indy community which for more than a decade have embraced us as guests. Due to specific dialog with long-time partners in Indy, we believe that Gen Con attendees not only will receive the same great service and hospitality in 2015, but an even warmer response from the city. For as long as we stay in Indianapolis, we will stand shoulder-to-shoulder with this community, expand our efforts to bring more diversity to Gen Con, and welcome all.
In closing he says :
I hope that you'll join us at Gen Con, which will be inclusive and fun. Prospective attendees, if you don't feel comfortable attending, based upon your principles, we invite you to make the decision that feels right for you, your business, or group. We support your decision, regardless of the outcome.

What does the future hold for Gen Con in 2021 and beyond? Planning and bidding for our convention is a long-term process that begins five years prior to contract-term commencement. Discussions, whether to remain in Indy or move elsewhere, have begun.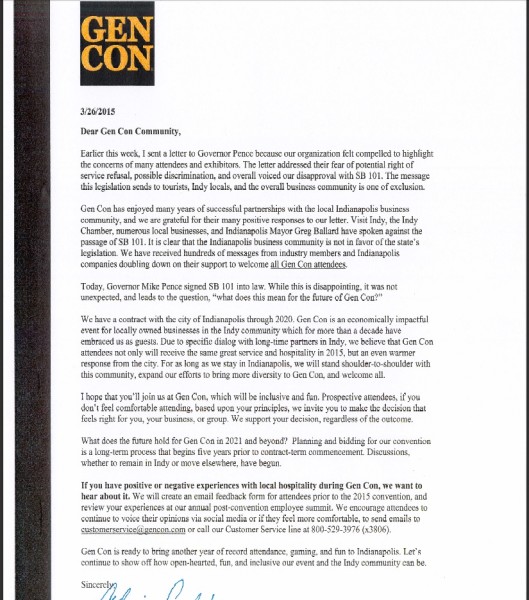 So, we know it will be pretty much business as usual for Gen Con in Indy till at least 2020. After that the convention "could" move to another city.