After months of speculation and rumors, it's official! The  Dragon + app from WotC has appeared in the iOS App Store.  For those on Android, that version is coming soon.
Dragon+ is your official mobile source for all-things Dungeons & Dragons. This free app for iPhone or iPad has everything you want to know about D&D in one easy place. In addition to ongoing up-to-the minute news updates, every second month you'll enjoy a new issue of Dragon+ showcasing what's new in Dungeons & Dragons – from backstory and world information to discussions about what's coming next with the creators and developers of your favorite D&D products.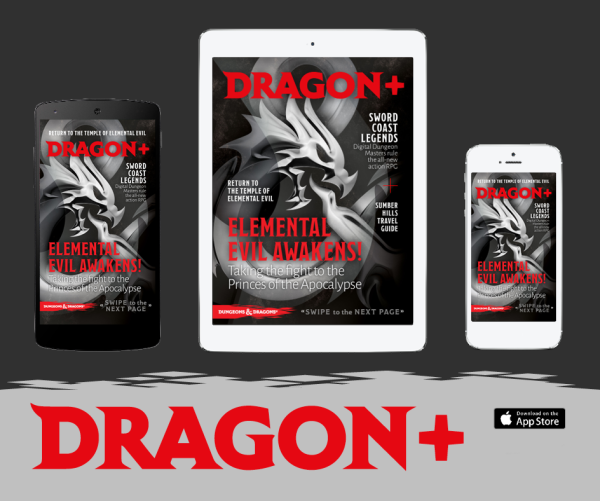 Table of contents for the issue include:
A Word from the "DM to the Stars"
Editor's Letter
Elemental Evil: Unearth the Deception
Travel Talk
Profile: Goliaths
Interview: Sword Coast Legends
Video Highlights
Player Factions: Our "Heroes"?
Know Your Enemy
Community
Interview: Bob Overmeyer
Ye Olde Magical Emporium
Gauntlet Gophers
Where It All Started
Here's the official announcement From WOTC.
Subscribe now to get the latest issue delivered straight to your iPad or iPhone. Editions of Dragon+ are available every 2 months for download via a FREE subscription. Subscriptions may be turned off by going to Account Settings after activation. Single copy issues are also available for FREE.
Here is  a direct link to the location in the app store or you can search for  Wizards of the Coast in the App Store.