DDO Players is proud to present the Audio from the Titansgrave panel at Gen Con 2015!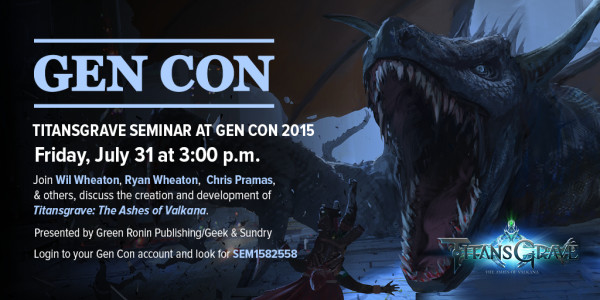 This will held in the biggest ballroom at the ICC, and was packed out! Chirs Pramas from Green Ronin Publishing tweeted out a picture of the crowd
This was the audience for our #Titansgrave panel. Holy shitsnacks! @wilw announced there will be a Season 2. Yes! pic.twitter.com/T1e18NIgIQ

— Chris Pramas (@Pramas) July 31, 2015
A note on the audio – some of the audience questions were not very loud even when they were using a microphone, I tired to boost the audio as much as I could.
We would also like to give a special thanks to Wil Wheaton and Geek And Sundry for allowing us to release this panel, as far as I know, we are the only ones with permission to do so!