Show up to your gaming table in style with the Spellbook Gaming Boxes.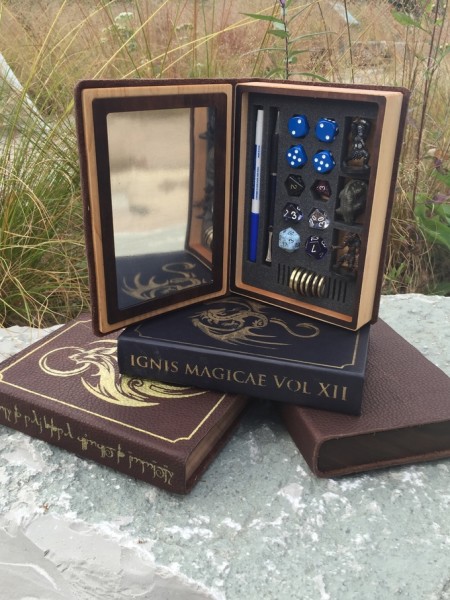 We've been working on Spellbooks, a gaming box designed to feel like an arcane tome and crafted to capture the timeless appeal of classic leather, wood, and metal.

Spellbooks are stylish and functional reliquaries for your favorite gaming gear. They come in two basic styles; "card deck" and "rolling tray." The card deck is made for trading card games like Magic: The Gathering, while the rolling tray is for the generalists out there. You can further personalize the rolling tray interior with removable foam inserts cut to a variety of templates.

Inside the cover is a new Elderwood feature: the Reflecting Pool. Each Pool is crafted out of a variety of metals and acts as a fully functional dry erase board to keep track of temporary stats.

Finally, we offer an array of luxurious leathers with which to bind each Spellbook, and offer a range of art to customize the cover and spine to make them uniquely your own. To close out the package, hidden magnets together with a book belt keep your treasures safe and secure.
As of this posting, the kickstarter has been funded with $189,444 of the $5.000 goal
So they are in the stretch  goal section now. with 8 Days to go.
Thanks to reader Mok Taskmaster for the tip on this kickstarter project!
Podcast: Play in new window | Download (8.3MB)