There are times when you can not get your full gaming group together, for some dungeon crawling. Or maybe you just want to do a quick "One Shot" run. Tales Of Arcana might just be what you are looking for.
Desinged by Matt Knicl, Who worked at WOTC as a creative writer.
The game is up on Kickstarter (of course, as that seems to be where you go with games these days!)
Tales of Arcana™ is designed for one-time, single-session campaigns where players randomly generate their character from cards. I found that once I graduated college, despite my willingness as the game master or the willingness of other players, things always came up – overtime, babies, illness, etc. Talking with other gamers I've heard similar frustrations, where a month goes by between sessions or gamers impulse buy expensive reference books they've never been able to use. Tales of Arcana™ is designed to be set up in a matter of minutes, and it's quick to pick up the basics. Of course, if desired, players can use the same character multiple times or use Tales of Arcana™ for a prolonged, multisession campaign. The game has been thoroughly tested by traditional roleplaying gamers and can be used as an alternative to other systems or as a pathing product into other, more complicated games.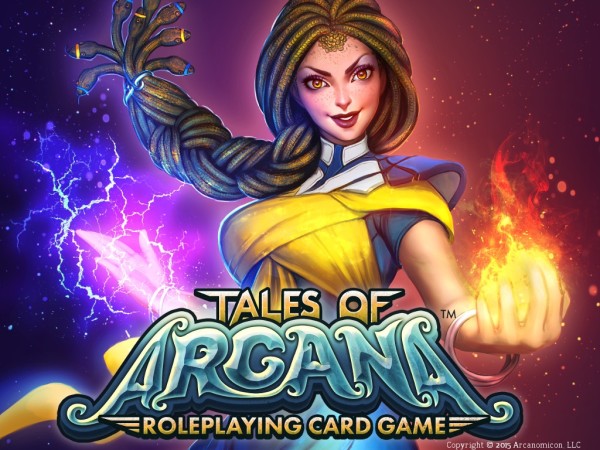 Tales of Arcana™ takes place in the dimension of Elohim, on the planet of Genesis, where a grand Empire covers three-fourths of that world's surface. Far from Millestra, the capital, the huge continent of Arcana lies at the edge of the empire's territory. Arcana is a land of wild magic, harnessed and sold to those willing to buy. Now is your chance to quest in Arcana, or any other world of your or your friends' creation, armed with powerful magics to defeat any obstacle. Build your characters, create their past, then enter the story to shape their future.
You can download the game, the rules and a one shot campaign for free over at the website
The kickstarter (as of the writing of the this post) has 22 days to go. With 87 backers for a total of 4,641 of the 15,000 goal.