Fantasy Grounds wasted no time in incorporating the newly release SRD!
Doug Davison says
"We started work on converting over the new SRD content as soon as it was announced on Tuesday and quickly decided to make this a free update. This means that people can play D&D on Fantasy Grounds for as little as $10/mo for an entire group or just $4/mo for those who want to use it to help manage their campaigns for local play. (Non-subscription options are available too) The contents of the SRD are huge and we think it really shines on the Fantasy Grounds platform."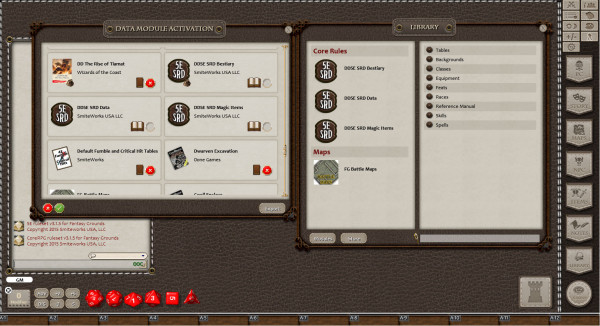 They have made super easy to use the SRD as well
"For ease of play, we've divided the SRD content into three distinct modules – the SRD Data, SRD Bestiary and SRD Magic Items. The SRD Data contains all the reference material, races and classes for use in building and leveling characters and basic equipment, armor and weapons that can be used for characters and to aid play at the table or online. The SRD Bestiary is a module that the GM will probably choose not to share in its entirety but will allow the GM to quickly build encounters as they prep their session or on the fly. Since there are no images in the SRD, we've linked as many of these as possible to the top-down style tokens we licensed a year or so ago. Again, these are all included in the module for free. Finally, the magic items are presented as magic item templates from the SRD but are forged with existing equipment to use items which are usable by characters. In addition, the GM will be able to combine multiple effects with equipment to crank out some really unique items or item sets.
They of course will e continue to sell fully licensed modules for those people who want all of the content, the images and the extra bells and whistles we've added to those products.
Oh and Doug also said
"In fact, we just started work on the next big release from Wizards of the Coast. I think it's going to be a big hit with the D&D community."
Oh please be Ravenloft.. Please be Ravenloft..