Zombies, they seem to be everywhere these days. From TV To Movies, you can't miss seeing a zombie.
Later this month we will see Pride And Prejudice And Zombies hitting theaters, of course this is based off the book by Seth Grahame-Smith. combining Jane Austen's classic 1813 novel Pride and Prejudice with elements of modern zombie fiction, crediting Austen as co-author.

So why not add some zombies into a card game based on that work? Because everything is better with Zombies! (And Pirates, but no pirates here)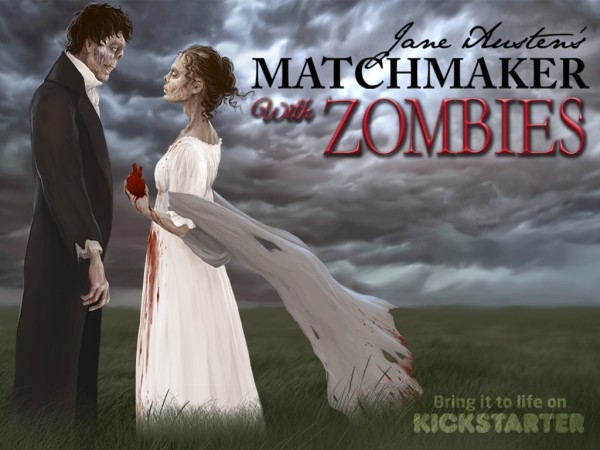 Jane Austen's Matchmaker… with Zombies is an expansion to the Jane Austen's Matchmaker card game. You will need the orgianl game to play, but it's also included with one of the KS Goals. It's up on Kickstarter now (Of course, that's where you go to make games!)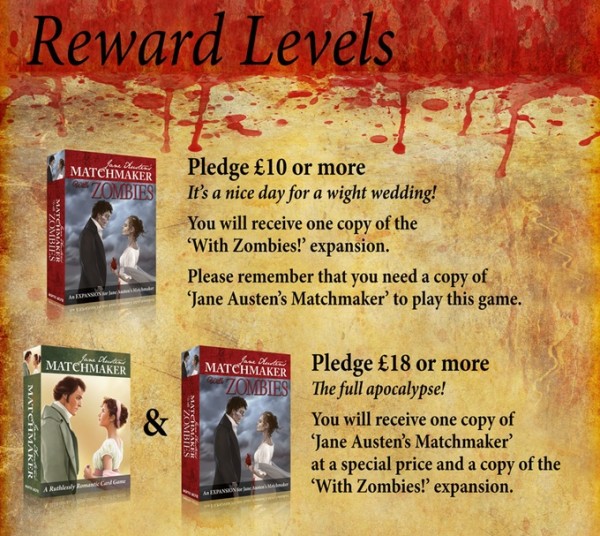 This expansion consists of 50 new cards and rules to supplement the original game.
You must still make advantageous marriages for your ladies and gentleman but now with the inconvenience of an undead apocalypse which threatens to make a bloody mess of your wedding plans.
One player starts the game afflicted with the Curse of the Living Dead. The Cursed player draws cards from the new deck – both on their own turn and when anyone gets married. This deck includes many Zombie cards, which transform the Cursed player's ladies and gentlemen into flesh-eating monsters! If the player runs out of characters to infect, they must pass the Curse onto someone else.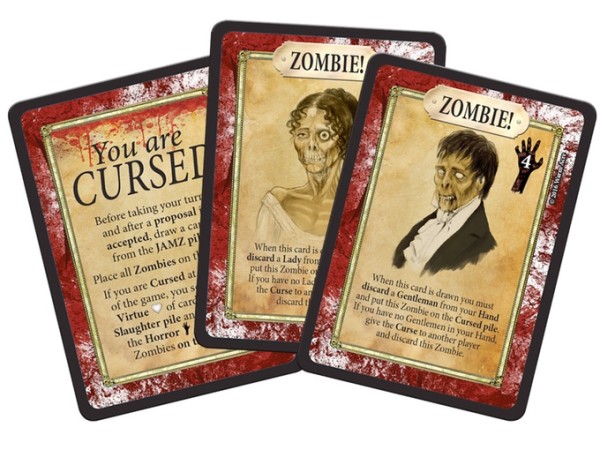 As of this posting there are 56 backers with  $1,422 pledged of $1,418 goal and there 31 days to go. So it's funded now is the time to get it now if you want some zombie love.