Who you gonna call?? Again?
Off the success of the first board game Cryptozoic is bringing us Ghostbusters II.
GHOSTBUSTERS: THE BOARD GAME II, one to four players take on the roles of the Ghostbusters. You'll investigate the mood slime that has flooded the city, causing earthquakes and riots in an attempt to bring Vigo and his minions back. The three brand-new campaigns have you taking on spectral threats like the Scoleri brothers, riding the Statue of Liberty, and battling through Vigo's ghost army. The game features figures based on original designs by Dan Schoening and an original story by Erik Burnham, both veterans of IDW's Ghostbusters comic book series.
Ghostbusters: The Board Game II is a flexible action-strategy game with unpredictable adversaries and characters with a wide range of abilities. Modular design and new cards featuring equipment and events keep the experience fresh every time you play. The game's 12 reversible tiles and campaigns that last from 20 minutes to multiple hours let 1-4 players bust ghosts in all sorts of mind-blowing ways.

Cryptozoic is looking to raise $250,000 and hit their funding very fast. As of this posting they are at 3,616 backers $479,933 pledged of $250,000 goal With 26 days to go
The kickstarter is set to end on May 9th 2016 and fulfillment is expected in May 2017. The kickstarter can be found  HERE.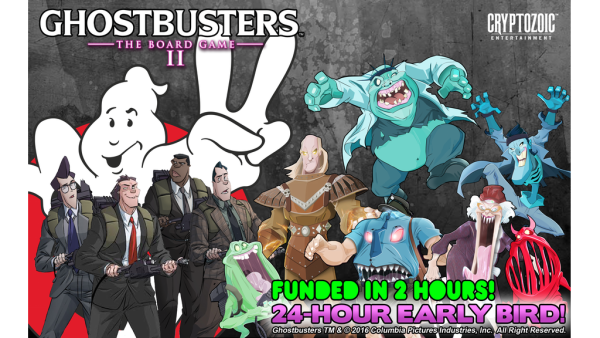 Podcast: Play in new window | Download (44.9MB)