Looks someone has been playing with the Necronomicon Ex-Mortis again!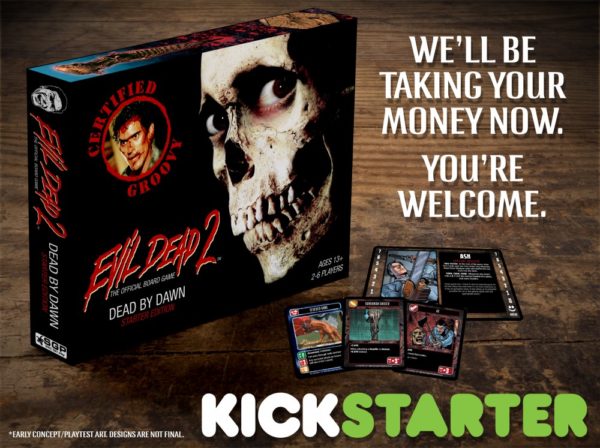 Players will take on the roles of the various people looking to survive the horrors of demon attacks as they search for the pages of the Necronomicon. Evil trees, deadites, and other horrors will be all coming at them, looking to turn you into deadites.
Featuring at least 8 custom figures and art depicting the terrifying and iconic characters, monsters, and locales from the film, the official Evil Dead 2 Board Game is the tabletop experience for Evil Dead 2 fans. 2-6 players will work together in 60–90 minute sessions to gather pages of the Ex-Mortis while trying to survive demon attacks, supernatural events, and avoid turning into evil deadites themselves. There will be an  deluxe edition featuring an  exclusive figures of Ash Williams, Deadite Henrietta, and a box based on the Necronomicon Ex-Mortis, the Book of the Dead.
The Kickstarter will be launching soon, an official website has surfaced for the game, which includes a countdown to the launch of the fundraiser.