The Syrinscape Gen Con SoundSet transports attendees to the crowds and stalls of the legendary Gen Con Exhibit Hall, regales with cosplayers and character stories and unleashes a massive monster attack on the convention. Further, the new SoundSet includes the mighty roar of the official Gen Con dragon courtesy of 2015 attendee Simon Cantwell, whose terrifying vocals won out over many others who auditioned for this historic honor.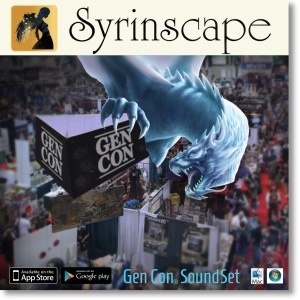 Featuring more than 600 lovingly crafted sound samples contributed by Gen Con 2015 attendees who stepped up to the Syrinscape microphone, Check out this new SoundSet, only available via Syrinscape.
The Syrinscape Gen Con SoundSet is available on Syrinscape.com for $3.99.
Attendees of Gen Con 2016 will also have their chance to become immortalized in the forthcoming Syrinscape Gates of Hell SoundSet and are invited to step up to the microphone at the Syrinscape Booth (#1143) to contribute their voices for shiny angels of the heavens and foul beasts of the underworld.