"Woe to you, oh Earth and Sea, for the Devil sends the beast with wrath,
Because he knows the time is short… Let him who hath understanding reckon the number of the beast
For it is a human number, Its number is Six hundred and sixty six."
Any metal head knows those lyrics, and of the course the band itself, now you can step into the undead shoes of the iconic mascot Eddie.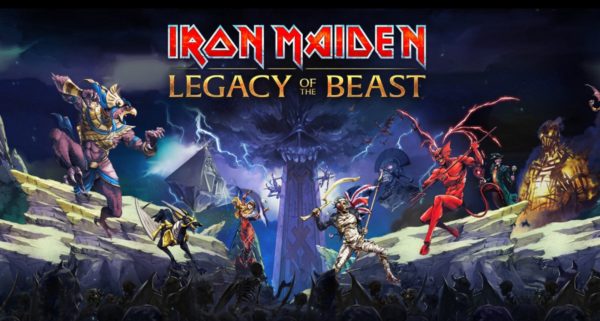 The game, Iron Maiden: Legacy of the Beast, is a free-to-play RPG that casts the player as Eddie, Maiden's psychotic zombie mascot. The story takes place throughout various moments in the history of both mankind and the band itself, pitting Eddie against a series of characters from Maiden's artwork and songs and giving him all manner of weapons and powers derived from the band's music and history.
Have a look at the trailer
The game is set in a visually stunning universe, comprised of an ever-expanding series of worlds derived from  Iron Maiden's music and art Inspired by themes from the songs, and set against a powerful and atmospheric  soundtrack, players will journey on epic quests to reclaim the shards of Eddie Iron Maiden's shattered soul as he faces his most challenging adversaries.
James Hursthouse, CEO of Roadhouse Interactive, says about the game:
"As a lifelong Iron Maiden fan, I am exceptionally proud of Legacy Of The Beast and excited to launch it globally. It has been a privilege to work so closely withIron Maiden and their management. With this game, I believe that we have created an outstanding, authentic RPG experience to appeal to all mobile gamers, including those discovering the band for the first time."
Steve Harris, bassist and founder member of Iron Maiden, Says
"We've always wanted to make a quality Iron Maiden mobile game as we think the combination of Eddie and the music is so well suited — and it's a great way to get our music out to a new audience! When the opportunity arose to make a mobile game which our fans, along with hopefully a lot of the gaming community, can play pretty well anywhere in the world, and download for free at that, we jumped at it. The whole band visited Roadhouse while touring through Vancouver back in April and we were so impressed by the creativity, enthusiasm and passion of the team there. Visually, the worlds and character designs do us proud and the music just ties it all together."
I have not nabbed it yet, so I don't know how "Free" it really is, I'm sure there will be things to buy to make game play "easier" as it always is 🙂 But I'll let you know