I could really make a political joke here, but I'll refrain from that.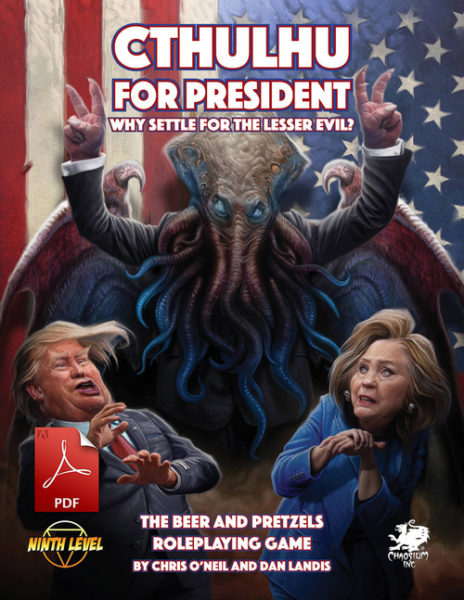 In Cthulhu For President, you become an Elder Party staffer tasked with serving the Great Old Ones during their eternal struggle for domination. Cross wits with the other political parties, manipulate voters using non-Euclidian geometry, swear on the Necronomicon, and sacrifice your co-workers to the Elder Gods. Politics has always been evil, but destroying the world has never been so much fun!
Cthulhu For President is a complete roleplaying game with rules for character generation, skills, combat, and magic in the shadowy world of occult national politics. A Campaign Manager™ section includes adventure seeds, political enemies, game-master secrets, and a ready-to-run adventure.
You can pick up your copy today over at the Chaosium Web store
Keep this in mind though! 🙂
* Purchase of this game constitutes a binding contract with the Elder Party. Through this action you have sworn your vote unto Great Cthulhu. Failure to complete the terms of this contract will result in a Yog-Sothoth audit and other forfeitures. The Stars Are Right!