The long awaited Producer's Letter has dropped as of today. Severlin posted on the forum's today, Let's dig in shall we.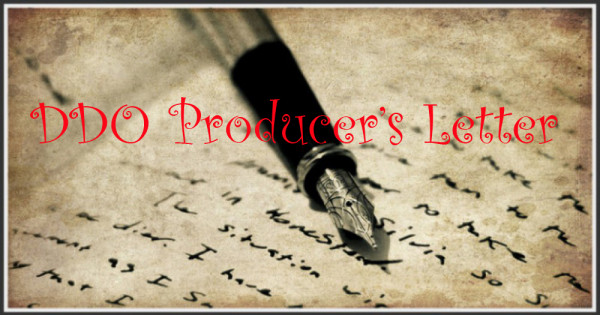 I hope you've been enjoying Against the Slave Lords, checking out our new Cannith Crafting update, and helping us celebrate a decade of DDO! I'm writing today to talk about our plans for the rest of the year and beyond.
Our goal is to release two updates before the end of the year. One of the updates will be larger, the other smaller, and combined they'll bring several things that players have long asked for to DDO. Since we are currently working on two updates, it isn't clear yet what will be in each update. We'll release things when they are ready, so if something isn't ready in time for next month, we'll see if we can finalize it for the following update in December.
Here's the list of Things We're Working On:
~ Updated Night Revels event: First up, we're working on an update to The Night Revels, our Halloween-themed event which debuted last year. We're planning to add a couple of new quests along with a handful of new items that will focus on cosmetic fun. We're expecting the updated Night Revels to debut later in October.
Drac Says – This is most welcome news, I enjoyed the "Night Revels" event and was hoping they were "Halloween" Up differnt dungeons for the next release of it, and new cosmetics are always a good thing.

~ A new Questing hub: We've long wanted to help people figure out where to go and what to do when they come back to DDO from some time away, and this hub will help both them as well as anyone who'd like to get to quest entrances more quickly. We don't have a name for this new system yet, and we'll be talking a lot more about it in the coming weeks.
Drac Says – Wow, I did not even see this one coming, but I think a lot of players will find this a good thing, I know that is one of the hardest parts of DDO for a lot of folks, knowing where to go and when, as you really have many choices and nothing really "points" you in the direction.

~ World Character Transfers: We've heard from many of you that our process to transfer characters from one world to another needs to be more intuitive and take less time. Our new launcher-based system will send a character or characters from one world to another in seconds, and players will be able to pay for their transfers directly with Turbine Points. We think you'll like this transfer system, which is already in place in our sister game Lord of the Rings Online. Expect to see it debut by the end of the year.
Drac Says – Players have been wanting this, looks like Turbine has listened and are implementing it.

~ Deity feats: We'll be adding new Deities that players can follow, and new feats that can be unlocked by players who find favor with their deity of choice.
Drac Says – I never really understood, why this was not apart of DDO to start with, it's a integral part of Pen and Paper, so this again, is most welcome
~ A new free dungeon: We're expecting to release a new free dungeon in December that we think fans of A Study in Sable will enjoy. This quest sends adventurers to a popular type of pen and paper location that hasn't had much representation in DDO. I'd say more, but I don't want to spoil it.
Drac Says – Woot! Woot! I LOVE the fact they are doing all these "classic" dungeons. My Guess? Tomb Of Horrors! Can't wait to hear more on this.
~Character Bank Storage: We're working to take the user interface used for your Shared Account Bank and Crafting Storage and bring it to your personal character bank. Besides an improved look and functionality, this change will allow us to offer additional character bank storage space in the future.
Drac Says – More Space! Yes Please!
~ Monks and Favored Soul updates: Continuing our class work, you can expect an overhaul of handwraps in addition to updated enhancement trees for both classes.
Drac Says – Class passes are always a good thing, and from what I've heard this 2 are needing them (I don't play either class) so I can't speak from my own play experience on that.
Looking beyond 2016, we know many of you have been hearing the rumors and teases about Ravenloft, so let's talk Strahd. We're 100% interested in bringing Ravenloft to DDO, and are working through the process to make it happen. We don't have an exact time frame in mind, although our current plan has it coming to DDO sometime towards the end of 2017. We can't wait to bring one of the most popular and classic adventures in Dungeons & Dragons history to the game.
Drac Says – Shut Up! And Take My Money! It's well known my stance and want of having Ravenloft in DDO. I just have fears on how they will implement this into DDO, as Ravenloft is a special place in the lands of D&D, there is fear involved, and the slight fact of the Mists that trap you there. So i'm hoping they include this as well. only time will tell
We're also planning for our 11th anniversary in late February! We're hoping to debut a new playable race for the anniversary along with some new adventuring. We've been asking you whether you'd like to play a kobold or dragonborn, and while the final decision hasn't been made, it looks like many of you would enjoy the dragonborn, so we'll see what the anniversary brings.
Drac Says – Can't wait to see how they celebrate 11 years! It did shock me, that many people wanted the Dragonborn over the Kobold.

It remains an honor to be your Executive Producer, and I'll be back later this year to look ahead to 2017. Until next time, may the loot gods smile on you.
~ Sev
Overall I would say I'm pretty happy with this letter, they seem to be wanting to improve the game, add new things and take us to Ravenloft, which of course is the most important thing 🙂 I kid I kid.
What are your thoughts on the letter?