Even more horror awaits you in Beyond the Threshold, the first expansion to Mansions of Madness Second Edition. Introducing two new investigators, one unfamiliar creature, and a variety of additional components, this expansion will extend the possibilities of your journey through each and every unsettling scenario of uncertainty and anxiety. The new spaces to discover, people to encounter, and cards to experience all come together in additional scenarios, throwing you into the dim unknown of two new mysteries, each with their own unique additions to the world of Mansions of Madness.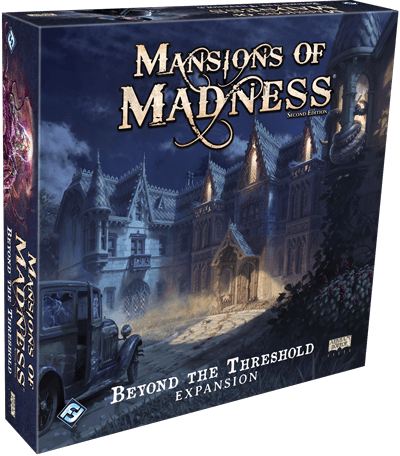 It is with these brave truth-seekers that you will face off with both monsters you've met before and the newly corrupted Thralls. People who are weak in mind and spirit have a tendency to fall to dark powers, though none quite like the possessed creatures introduced in this expansion. The forces controlling their minds have gained influence over their physical being as well and have disfigured it almost beyond recognition. Thus, the people with whom you speak in one moment may be the monster you must fight to destroy in the next. There is no such thing as trust with these dark powers afoot.
The first of two new scenarios introduced in the expansion is The Gates of Silverwood Manor, a trying investigation of disappearances, each with some connection to Silverwood Manor. You've been called in to help by Officer Tetsuo Mori, though what happened before you arrived was never fully explained. After all, how could anyone know about the supernatural events occurring within the manor? The observations you make upon arrival may fail you later, as you return to explored areas only to find unfamiliar spaces.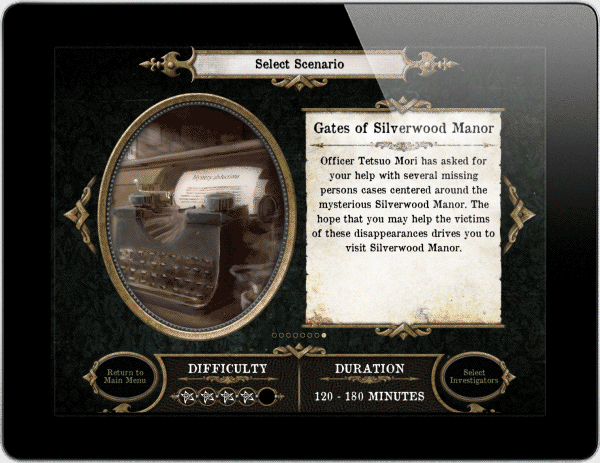 In Vengeful Impulses, the second of the scenarios, you may experience a similar inconsistency of reality, though as darkness envelops you and your fellow dinner guests, you may begin to question the motivations of those around you. Your host, Thomas Carvey, has suspicions of a malicious plot, and the unsettling events you witness may suggest he is right. Further exploration of his home, however, may lead to greater questions, and intensify your desire to nail down the facts.
Beyond the Threshold is expected in stores early next year, but the monsters of the mansion are getting restless. Keep your eyes peeled for news on upcoming downloadable scenarios, one of which will be released this winter and playable by owners of Mansions of Madness Second Edition core game.