We are joined this week by Community manager Cordovan, and Content Designer NohBob. We talk Update 33, and Cordovan And NohBob answeres questions from the DDO Community!
Audio Only Listen And Download Link
Podcast: Play in new window | Download (116.8MB)
YouTube Watch Links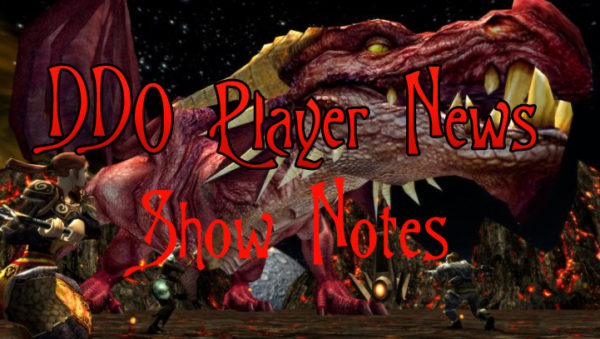 Game News
A Chat With Community Manager Cordovan and Content Designer Nohbob
Questions From The Community
Store Sales
Free Sample Of The Week October 14th – 20th
Kundarak Orange Hair Dye Use Coupon Code FALLHAIRDO 1/Account
20 % OFF
Select Monster Manuals
Slayer Count Boosts
Select Pets & Accessories
Companion Name Changes
Week in Gaming
Drac Week
Cannith
Rogue Lvl 21
Shadar-Kai Lvl 19
The Devil's Gambit
Grim and Barett *No Drops*
Rogue Lvl 12 (Reached)
House Deneith
A Relic of a Sovereign Past *First time running this*
The Bounty Hunter *First time running this*
Sentinels of Stormreach *Elite*
The Black Loch
Storm the Beaches
The Tide Turns
Ranger  10 (Gnome – Static Group With Mythery, Sahba Jade, Rent2Pwn)
Temple of Elemental Evil Part One *Hard*
Elemental Bloom – Quarterstaff Dropped, Was hoping for Spahire Sting Long Bow! 🙂
Rogue Lvl 12  (With Pineleaf)
The Sands of Menechtarun
An Offering of Blood (Vulkoor Spiral)
Raid the Vulkoorim (tricky figuring out the lever trick at the end)
Tabletop
Dungeons And Dragons 5E Storm King's Thunder
Party made it to the keep, not without losing the the fighter. He feel from the bridge, (Failed roll for jumping over gap) then failed roll as he was climbing up a rope they throw down, he then failed death saves. So Killed a player, but could not take pleasure in it, as soon as, he died he said "Good, does that mean I can roll up a different class now"
Vast (For Review)
*Secret title* for kickstarter preview
Warlock of Firetop Mountain (Video Game) for review
Pineleaf Week
Gnome warlock Level 11-12 (with Drac)
The Sands of Menechtarun
Desert Caravan
Purge the Fallen Shrine
The Chamber of Rahmat (Physician) – Hit level 12
The Chamber of Kourush (Astrologer) Looked very familiar
An Offering of Blood (Vulkoor Spiral)
Raid the Vulkoorim (tricky figuring out the lever trick at the end)
Drow Warlock Level 7
Temple of Elemental Evil, Part 1
Minecraft
Finally figured out how to make a 1.11-friendly fishing farm.
Created my first Minecraft tutorial
Created my first iron farm.
Tunnels & Trolls
Created a character to Grimtina's Guard before I read the fine print.
Created a version of Pineleaf to run Grimtina's Guard after reading the fine print.
Surprised to see that it asks you to roll a d20 at one point.
I naturally died before the end. Does anyone else think saves in T&T are tough?
Donations
We currently have 24 supporters on Patreon. If you would like help support DDO Players, simply go to the donation page where you can support The Players Alliance on Patreon.  There you will find rewards including a mention on the podcast of your choice, or even guest for an episode on DDO Players News. By supporting us on Patreon you will help us upgrade our camera's so we can bring you better convention and tabletop play/review coverage.
Feedback
iTunes Reviews
This week we did not receive any reviews but would love your support!
Featured Comments
This week we have no featured comments
Emails
This week we have no emails.
Contact Us
Email us!
podcast@ddoplayers.com
Follow us on Twitter!
The Players Alliance @PlayersAlly
DDO Players @DDOPlayers
Draculetta @Draculetta_72
Pineleaf @PineleafNeedles
Follow Our Guests
Cordovan – @JerrySnook
Nohbob – @NohBob
DDO – @DDOUnlimited
Final Thoughts
The Players Alliance LIVE Shows
Mondays at 8:30 p.m. Eastern – DDO Players News
Every Thursday at 8:00ish  p.m. Eastern – XP Quest
Saturdays at 8:30 p.m. Eastern – LOTRO Players News
Last Friday of each month at 8:30 p.m.  – LOTRO Academy: After School
Join Us For Our Live Shows! ddoplayers.com/live/