Executive Producer Severlin and Community Manger Cordovan, were interviewed on the recent episode of LOTRO Reporter. The talk was not all LOTRO, as they talked a lot about the future of DDO as well, and Severlin let something big out of the bag after talking about Ravenloft a bit.
"And were going to visit Stonelands in the summer, with a content pack" Executive Producer Severlin
For those not up on your forgotten realms lore, The Stonelands was a rocky and hilly region of terrain north of the Storm Horns mountain range, to the north of Cormyr. It was an inhospitable place for civilized humanoids and was home to orcs, goblinoids, and other creatures.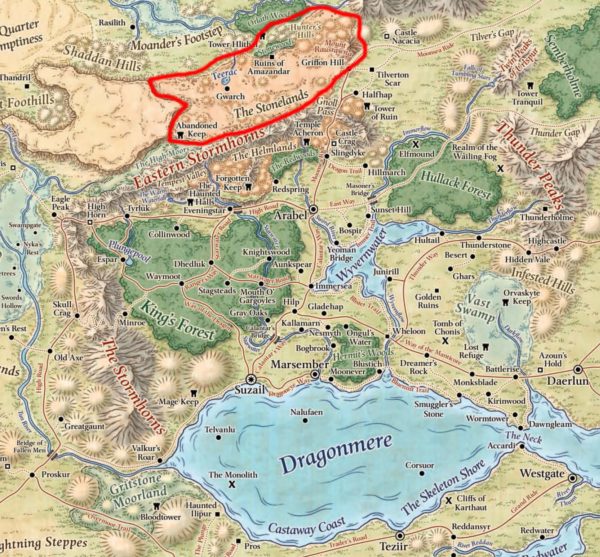 As you can see, we are moving to the north past the Stormhorns.  This is pretty notable in that it's pushing us closer and closer to The Anauroch Desert, which is just a bit more north.
We also learned several other things in the interview as well :
Ravenloft is coming, they want to get it out by Halloween, with the amount of content and systems, they are putting into it, and they have some shared resources, it will depend on how well the Mordor expansion goes and if it drops on time. Any delay to Mordor will delay Ravenloft.
Dragonborn might be later than Anniversary, but they would like to get in there for that.
The Anniversary event will be all dragon themed, as that is what players wanted. there will also be a raid and 2 dungeons and race if everything goes well.
DDO And LOTRO share different versions of the same engine, AI and monster combat is complete different for each game
Devs can move back and forth, but will take someone experienced. A new person could not just work both, as DDO is a bit different, systems is the big thing.
WOTC has to approve everything they do, (Sev added they have been great to work with) At this point the team knows the IP so well, it's not a problem.
They also talk about the transition from Turbine to Standing Stone Games and more, The whole interview is a great listen and runs 40:12
Thanks to Chris from MMO/LOTRO Reporter for doing the interview and letting us link over so you can enjoy it