Curse of the Crimson Throne is the second Pathfinder Adventure Path to receive an update and retooling for the Pathfinder Role playing Game.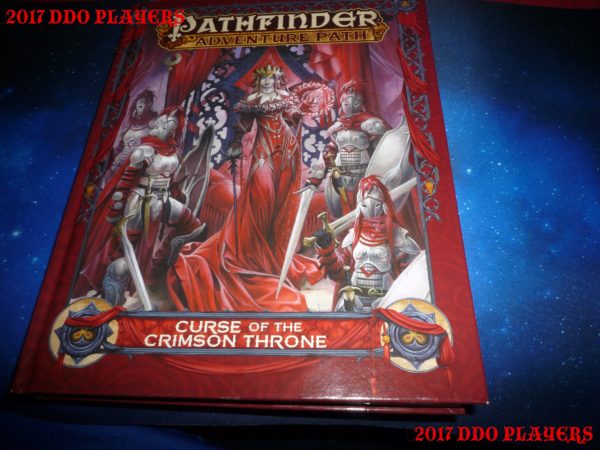 All six modules of the original Adventure Path are combined into this massive hardcover volume. This nearly 500-page book includes new illustrations, new characters, new location maps, and new encounters from when it was first released.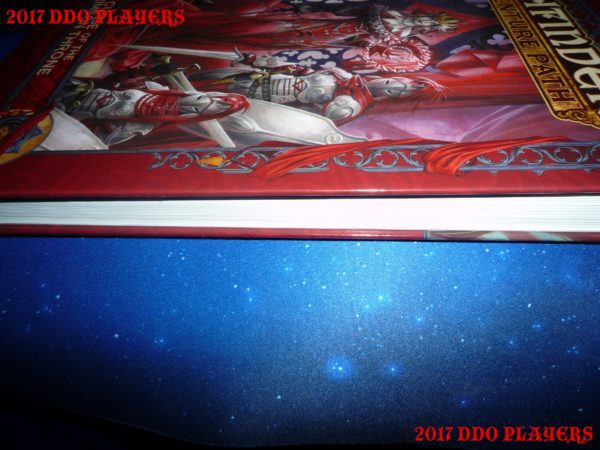 What are Adventure Paths?
A Pathfinder Adventure Path is a complete campaign for a group of characters, covering their career from 1st level adventurers to, in the case of Curse of the Crimson Throne, level 16. In Curse of the Crimson Throne, the characters are swept up in the intrigue surrounding a transition in power in Korvosa, a large city in the wilderness region of Varisia in the Pathfinder campaign setting of Golarion.
The Book
One word here Beautiful.  The pages are easy to read, just the right size font, crisp and clear, and the book is full of excellent art and maps. Pazio is really steeping up their art game in the past few books and it shows.
The Adventure
Curse Of The Crimson Throne is always voted as one of Pathfinders best adventure paths, and after reading through this, I can understand why. The story hooks you in. I like the progression that you will achieve with your characters, as you make your way through the story. I have never played or nor ran this adventure path, but I'm excited to do so, as I was hooked on the story from the start. There are some interesting Monsters that will face (I'm going to keep this spoiler free) and some great plot twists and turns. Plenty of horror elements if you are in to that, and how is not right? There is also a nice "side" quest dungeon to run through as well.
Final Thoughts
This is the adventure path to run for Pathfinder, and this is nice way to do so, it's all one nice hardcover book, great art and fun game play from what I have read (Again, I have not ran or played this, but need to fix that very soon!) I don't think you can go wrong with this one. A must have for your pathfinder collection.
The hardcover book  is available on the Paizo Site for $59.99 or the PDF for $41.99. You can also pick up the book via  is available at Amazon.
A special thanks to Paizo for providing us with our review copy of the book, used in this review. *This is no way reflected the opinion or review of the product*
*Note the above amazon link is an AFFILIATE LINKS, DDO Players will get a small percent of the sale, this is another way you can help support the site*