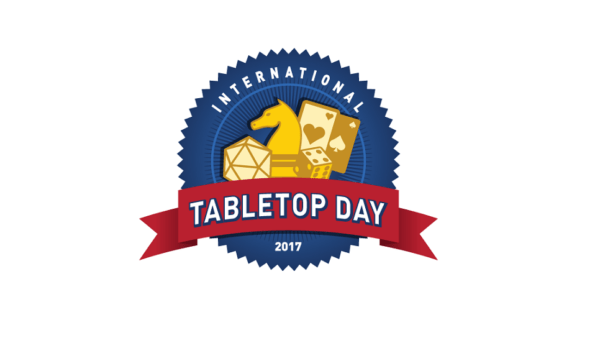 Geek & Sundry has revealed the promotional items for its 5th annual International Tabletop Day (ITTD), which takes place on Saturday April 29.
International Tabletop Day 2017 Castle Panic Tower (Fireside Games) The tower is the third in the series for Castle Panic fans, replacing one of the original towers with this one. When it is destroyed, everyone draws up to a full hand and trades a card.
Far East Territory, Pre-Release Edition & Fairy Queen Preview Promo Card (Japanime Games) This preview of the expansion for the deck-building card game Heart of Crown also includes a preview promo card for the Fairy Queen, from the Fairy Garden expansion that won't be released until 2018.
Biotix Microbes Mini-Expansion (Smirk & Dagger) This mini expansion introduces two new types of microbes (adaptive and hyper-reactive) to the forthcoming press-your-luck game of growing the largest cultures while sabotaging lab-mates work. It also includes incubator cards and rules to add a new mechanic to the game.
Game -Most Popular Game in all Mother Russia: Not Really (Hunter Books) The simple game is used to enhance gameplay of other games. Game creates house rules for other game titles.
Class Tokens (Broken Egg Games) The set of acrylic tokens commemorate International TableTop Day by allowing participants to declare their allegiance to their preferred role (Ranger, Wizard, Rogue).
Fuska, Master of Orion Advisor Promo Card (Cryptozoic) In Master of Orion: The Board Game, any race can recruit the Klackon advisor to the Queen, allowing them to impose a level of calm among their entire society.
Aeon's End: ITTD 2017 Promo Cards (Indie Boards and Cards) The promo cards are for the cooperative deck-building game Aeon's End. Each pack includes one new minion (Glyph Enigma) and five copies of the new spell (Drown in Flames).
Fuse 10 Card Promo Pack (Renegade)The pack of 10 promo cards for Fuse will introduce a new combination of colors and numbers to the game.
Clank! 10 Card Promo Pack (Renegade) Players of the deck-building game of thievery Clank! can use the "Snack Table" promo card to feed the whole table with either gold or health.
Lucha Jefe- ITTD Exclusive Microgame (Grey Fox Games) Players are luchador managers going head to head to recruit the best fighters and maintain the best record.