Paizo Inc.  announced a new book for Pathfinder RPG, and they are going dark with Book of the Damned hardcover rule book will be released September 2017 and is now available for pre-order With an MSRP of $44.99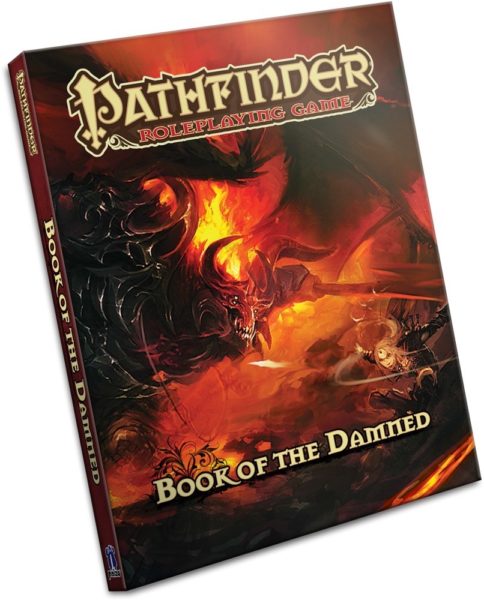 The denizens of the evil planes of existence have long tempted, tormented, and tortured mortal life. From the lowliest imp to the mightiest demon lord, these realms are ripe with horrors and festering with threats to body, mind, and soul, and the routes to knowing these blasphemous secrets are held within the infamous pages of the Book of the Damned.
With details on demon lords and arch devils, information on the realms of Hell, Abaddon, and the Abyss, and rules for incorporating fiendish influences into the game—be they in the form of foes for heroic parties to face, or temptations for less scrupulous adventurers to consider—Pathfinder RPG: Book of the Damned explores the workings of these powerful forces of evil, focusing on the numerous demigods that influence mortal life and the countless fiends who prey upon the living and dead alike. Pathfinder RPG Book of the Damned includes:
Information on the sinister boons granted to worshipers of dozens of fiendish demigods drawn from the planes of Abaddon, the Abyss, and Hell, including Archdevils, Demon Lords, and the Four Horsemen of the Apocalypse.
An exploration of the infernal realms of Hell, the sinister reaches of Abaddon, and the bottomless rifts of the Abyss.
New feats, spells, magic items, and prestige classes for use by characters who both fight against and serve the forces of darkness.
Rules for infernal contracts and sinister rituals.
Statistics for several never-before revealed fiends and lavishly-illustrated in-world excerpts from the pages of the notorious Book of the Damned itself.
Book of the Damned will be a 288-page hardcover book.
"Book of the Damned fills my dark soul with devilish delight, Demons, devils, and darkness are always popular topics around the Pathfinder game table, and Book of the Damned arms players with tools to fight against (or alongside) these paragons of evil, adding a demoniacal twist to any Pathfinder campaign. Are your players taking a trip to Hell? Don't Satanic Panic! Book of the Damned has all the infernal answers you're looking for!" Paizo Publisher and Chief Creative Officer Erik Mona