Welcome to the fantastic world of Nehwon, home to the legendary Lankhmar and the dubious heroes known as Fafhrd and the Gray Mouser! Goodman Games is pleased to be given the opportunity to mine the incredible stories of renowned author Fritz Leiber and adapt the people, places, and things of his tales for use in your DCC game. Within this boxed set, you will find everything you require to begin a DCC Lankhmar campaign or to take your DCC RPG adventurers through space and time to visit the world bubble of Nehwon.
Goodman Games, under official license from the estate of Fritz Leiber, is publishing a Lankhmar campaign setting for the Dungeon Crawl Classics Role Playing Game. The product will be a boxed set containing at least four books (possibly more depending on stretch goals), plus a map and tokens for the use of Fleeting Luck (a new rules mechanic). The page count of all books is estimated at 170 or more. The four books are:
The Compendium of Secret Knowledge: Rules Options for DCC Lankhmar
The Judge's Guide to Nehwon
Lankhmar: City of the Black Toga
No Small Crimes in Lankhmar (level 1 adventure)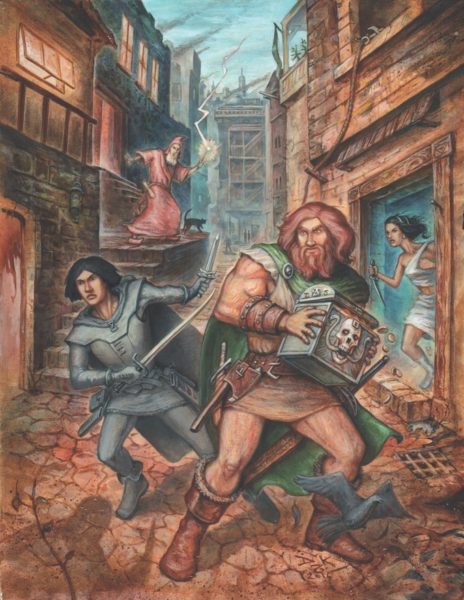 The kickstater is up and running now, and shattered the goal very quickly, so now it is on to those ever popular stretch goals! As of this posting they are 164 % of the goal, with 30 days.
Lankhmar is a fictional city created by author Fritz Leiber. Fritz Leiber is one of America's greatest science fiction and fantasy authors, a writer whose works indelibly changed the landscape of imaginative fiction and influenced countless others—both writers and gamers—who followed in his wake. Leiber is best known for his stories of Nehwon, home to the legendary heroes, Fafhrd and the Gray Mouser, and to Lankhmar, the City of the Black Toga.