Actor Joe Manganiello is also a hardcore Dungeons and Dragons fan. So much in fact, he's written a script and is currently trying to get the movie made. If you are not  familiar with the name or the face, he has done quite a bit things in Hollywood :
Spider-Man
Spider-Man 3
Magic Mike
Magic Mike XXL Richie
Pee-wee's Big Holiday
Smurfs: The Lost Village Hefty Smurf (voice)
His best known role is
True Blood Alcide Herveaux
Let's be honest here, it can't be worse than the other 3 we got right?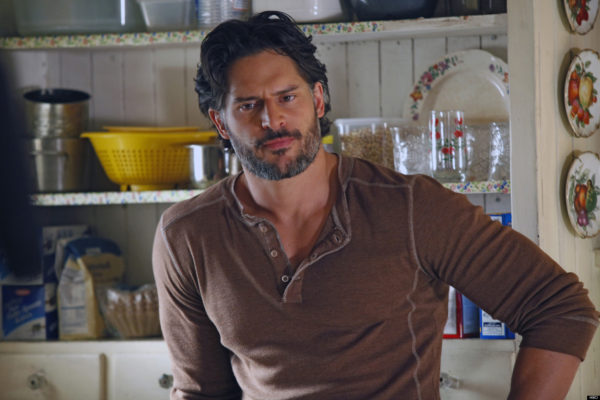 Appearing on MTV's Happy Sad Confused podcast, Manganiello revealed that he is angling to make a Dungeons & Dragons movie, so hard that he's already co-written a script for one with a playwright friend from Carnegie Mellon. He also shared that he met with Wizards of the Coast, D&D's publisher,
"I had a two-day creative summit with the Wizards of the Coast…we had like a two-day summit about where the movie could go or TV series, products, synergy, the whole deal…"
In Manganiello's vision,
"Obviously there's a spectacle. There's dragons, breathing fire and lightning. That's the biggest draw in Game of Thrones…[but] what makes a great fantasy or superhero movie is the human aspect. It's gotta be about something. We root for those characters in Game of Thrones. Fellowship of the Ring was about friendship and this undying love for your friends and doing anything for your friends, and I think that's something people can identify with…So I think when a movie is about something human and real emotionally, people are wanna go see it. And then if you get some dragons and breathing fire, I mean, hey, I'm in."
 UPDATE – Looks like he wants to be Dragonlance! according to this tweet

— Joe Manganiello (@JoeManganiello) April 7, 2017
He was recently on WOTC's Dragon Talk Podcast where he talked his love of D&D
It will be interesting to see how far this goes. Maybe instead of 1 D&D movie, we will have 2 coming soon!