You love rolling dice when playing tabletop games and you love the Cthulhu mythos, now combine your loves with Bagthulhu a diabolically adorable Cthulhu dicebag. Wayward Masquerade brings you this adorably cuddly lovecraftiatian abomination through Kickstarter.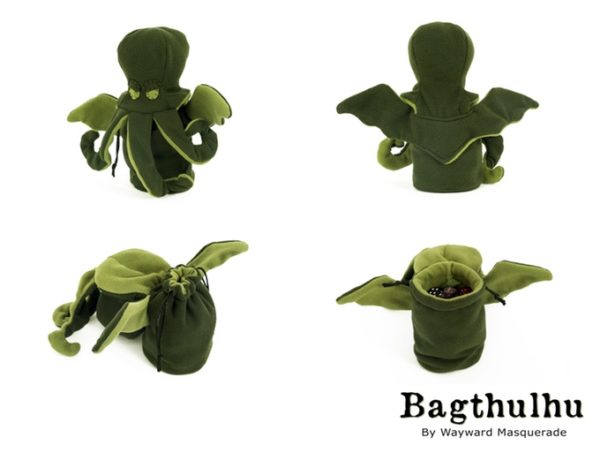 "One night, a couple of years ago, a cuddly little abomination wormed his way into my brain and refused to be quiet until I gave him a body and a name, Now he wants to take over the world. I'm… surprisingly ok with that." Bridget Hughes the designer of Bagthulhu
Bagthulhu is an unspeakable horror in the form of a cuddly soft toy dicebag for the most discerning of cultists. He likes dice, souls, and comfy places to wait dreaming. In his earthly form Bagthulhu is made of super soft microfleece or plush, and stands 20cm/8in tall. Flip back his head to reveal a dicebag belly with a double drawstring closure. His monstrous appetite has been specially upgraded for this campaign to devour up to 100 standard sized dice with room left over for an innocent soul.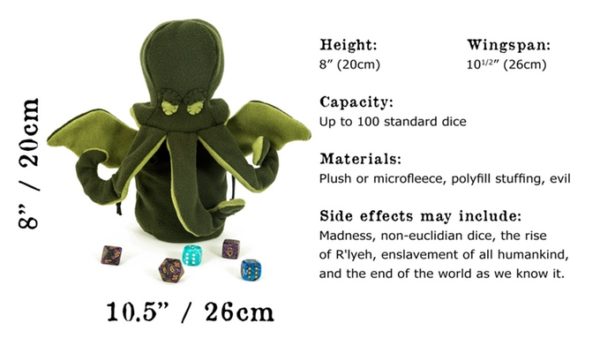 The kickstarter is up and running now, with (as of this posting) 26 days to go and is at 34 % of the goal.