Ten years after it first appeared, the Axis & Allies Anniversary Edition returns in an updated version to celebrate the 50th Anniversary of the Avalon Hill brand, releasing on September 22.
A hard-to-find Anniversary Edition of the game was released in 2008, featuring new units and a larger game board. Many fans call this the defacto edition to have, it was released in a vary short print run, and soon became a hot item, and can sell for as much $600 on eBay.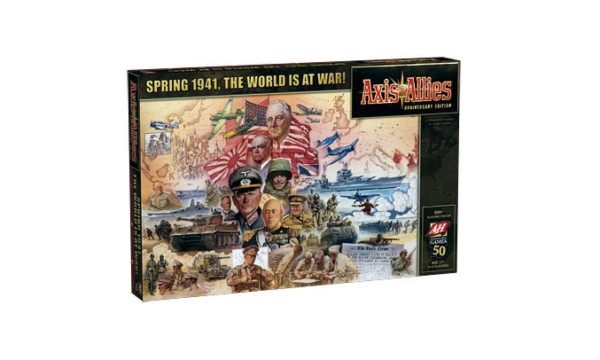 Avalon Hill decided to re-produce this version with an updated rulebook that streamlines some elements of gameplay and adds cruisers as a naval unit. The game also features a sixth playable position, with Italy joining the Axis powers as a full partner. On the Allied side, the USA takes control of the Chinese forces resisting the Japanese invasion.
The Axis & Allies Anniversary Edition will feature new sculpts for four of the game pieces and the largest Axis & Allies board ever produced, measuring 24 by 46 inches. The game includes more than 650 plastic minis, packaged in six country-specific storage boxes, 14 dice, game tokens, paper money, and plastic markers. It is intended for 2 to 6 players, ages 12 and up, and takes about 6 hours to play. MSRP is $100.00.