Fireside Games has announced that they will be embarking on the Smash and Burn Tour August 22–October 7, 2017. This tour takes them to 16 stores in the Midwest, where fans can demo their new releases, Hotshots and Kaiju Crush, and pick up promos. It'll also be a great opportunity to meet Justin De Witt, designer of games such as Castle Panic, Dead Panic, Dastardly Dirigibles, and Hotshots, and have him sign games and promos. Fans who live too far away to make it to one of the destination stores can follow along on social media and YouTube. They'll be posting videos of the stores and games to give you a sense of what gaming is like in the Midwest.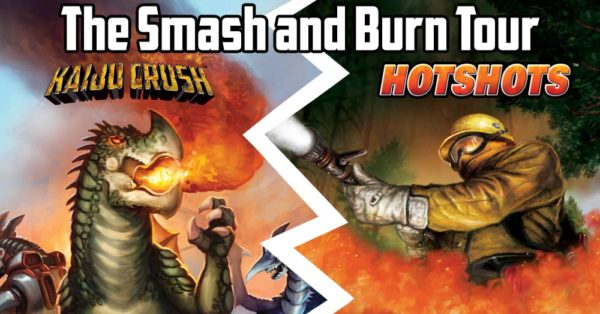 Justin and Anne-Marie from Fireside Games talk about the tour:
For more information on the games, check out these links:
http://firesidegames.com/games/hotshots/
http://firesidegames.com/games/kaiju-crush/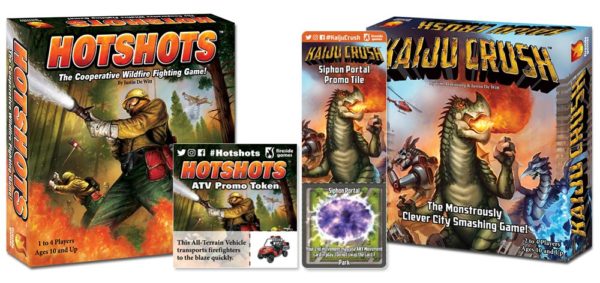 You can look below to find the nearest store to you, if you're a midwesterner. It just so happens, they will be visiting one of my FLGS, so I'll be sure to be there and get an interview and cover the event for the site.
Tour Schedule
| | |
| --- | --- |
| 8/22 (Tuesday), 6:00–10:00 Family Time Games (Indianapolis, IN) | http://www.family-time-games.com/ |
| | |
| 8/24 (Thursday), 6:00–10:00 Epic Loot Games & Comics (Centerville, OH) | http://www.epiclootgames.com/ |
| | |
| 8/26 (Saturday), 1:00–4:00 Good Games (Indianapolis, IN) | http://www.goodgamesna.com/us/stores/indiana/indianapolis.html |
| | |
| 8/29 (Tuesday), 6:00–10:00 Beyond the Board (Dublin, OH) | https://www.facebook.com/BeyondTheBoardLLC/ |
| | |
| 8/31 (Thursday), 6:00–10:00 The Malted Meeple (Hudson, OH) | http://maltedmeeple.com/ |
| | |
| 9/1 (Friday), 6:00–10:00 The Game Annex (Fort Wayne, IN) | http://www.thegameannex.com/ |
| | |
| 9/2 (Saturday), 1:00–4:00 Secret Door Games (Elkhart, IN) | https://www.secretdoorgames.org/ |
| | |
| 9/12 (Tuesday), 5:30–8:00 Cat and Mouse Games (Chicago, IL) | https://cat-n-mouse.com/ |
| | |
| 9/14 (Thursday), 6:00–10:00 Da Sorce (Chicago, IL) | http://dasorce.com/ |
| | |
| 9/19 (Tuesday), 5:00–9:00 The GameBoard (Sheboygan, WI) | http://the-gameboard.com/ |
| | |
| 9/21 (Thursday), 6:00–9:00 I'm Board! Games (Middleton, WI) | http://www.imboardgames.com/ |
| | |
| 9/25 (Monday), 6:30–9:30 Pegasus Games (Madison, WI) | http://www.pegasusgames.com/ |
| | |
| 9/29 (Friday), 5:30–8:30 Gnome Games—Green Bay West (Green Bay, WI) | https://gnomegames.com/gnomeblog/ |
| | |
| 9/30 (Saturday), 1:00–4:00 Gnome Games—Green Bay East (Green Bay, WI) | https://gnomegames.com/gnomeblog/ |
| | |
| 10/1 (Sunday), 1:00–4:00 Gnome Games—Appleton (Appleton, WI) | https://gnomegames.com/gnomeblog/ |
| | |
| 10/7 (Saturday), 1:00–5:00 Castle Perilous Games (Carbondale, IL) | http://castleperilous.com/ |