From the, I'm pretty sure that no one saw this coming file.
"My ally is the Force, and a powerful ally it is. Life creates it, makes it grow. Its energy surrounds us and binds us. Luminous beings are we."
–Yoda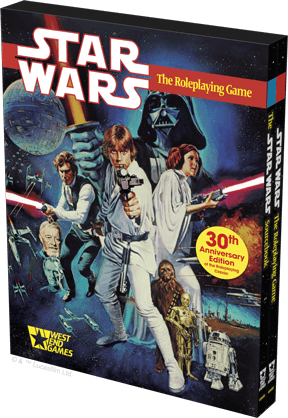 Fantasy Flight Games is proud to return Star Wars: The Roleplaying to print as a collectible set of two high-quality, hardbound books presented in a stylized slipcase. You'll find all the original game materials—just as playable as ever—and they're presented with the same graphic design and fake, in-universe Star Wars advertisements for the Imperial Navy, the R2 astromech Droid, and more.
Even the books' use of black-and-white, blue ink, and full color sections have been recreated, along with its use of still photos and concept art, some of which have been updated for this new 30th Anniversary Edition. Finally, the books come with a foreword by Pablo Hidalgo, one of the creative executives on the Lucasfilm Story Group.
No word on when they will be for sale, but they are listed at 59.99 on the FFG Site