Coming November 2017
In Sundae Split, players try to build the best ice cream sundae from the ingredients at hand. Get just the right mix of toppings and flavors, but avoid the vegetables! At the end, each sundae will be scored and the player who made the best sundae wins the game.
One player splits ingredients into piles, and the other players take turns choosing one. As the splitter, you get the last pile. You'll have to be clever and a little sneaky to get the ingredients you want. Collect the best mix of toppings and flavors to make the most valuable ice cream sundae and win the game!
GAME DETAILS
Number of Players: 2-5
For Ages: 10+
Playing Time: 20 Minutes
MSRP: $15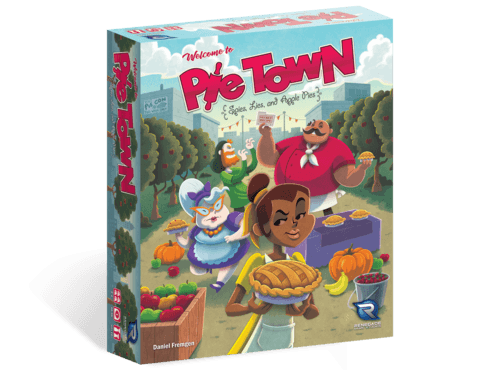 Coming November 2017
Welcome to Pie Town, a community built on apples and butter.  Business here is no cake walk, so manage your operation well and keep your secret recipe secret.
Pie Town is a worker-dice placement game with hidden information.  You will need to manage your constantly changing workforce to harvest, bake, and sell pies while deducing other players' secret recipes! Now is your chance to become the best pie shop in town!
GAME DETAILS
Number of Players: 2-4
For Ages: 14+
Playing Time: 60-90 Minutes
MSRP: $45