"You keep Christmas in your way and let me keep it in mine!" – Ebenezer Scrooge
So, it's not a secret I love a Christmas carol, I watch it every year on Christmas Eve. I say "Bah Humbug" from the day after Thanksgiving up until Christmas, when people say "Merry Christmas" no joke, I'm am pretty much the embodiment of Scrooge. with that said, I'm super excited to say there is a Scrooge game in the works!

It's Christmas. Snow is falling on the streets of Charles Dickens's 19th Century London. Swirling fog engulfs the cobbled streets and twinkling gaslights. Crackling fires glow with blazing logs as families share their Christmas feast. Don't get too cosy! The miserly old penny pincher Ebenezer Scrooge casts a gloomy shadow  over the festivities, with dangers, darkness and mean-spiritedness lurking around every corner. But there is hope…do you have the nerve to challenge Scrooge and save him from a life of 'Bah Humbug'!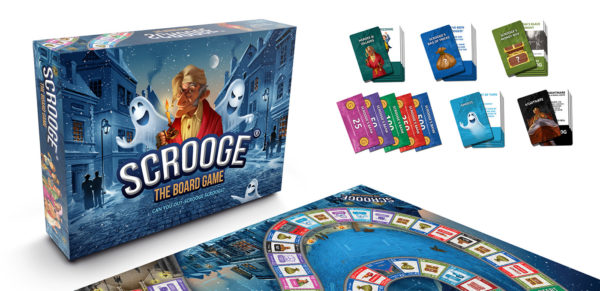 Enter the darkness of Victorian London in this fiendishly funny, addictive and entertaining survival board game experience for families and fun-loving adults. Manoeuvre through the streets of London in a challenge full of twists, trade-offs, and moneymaking. Inspired by Charles Dickens's famous Christmas tale, it's a game for heroes, nightmares and fearsome ghosts. A battle of wills to challenge your mind and sharpen your wit. Choose your strategy, be decisive, but watch your back and beware of Scrooge's tricks, traps, and villains. The object of Scrooge is to "out-Scrooge" the old miser himself through combinations of deck building, card management, and strategic decision making. A victory is declared when a player wins the Moment of Truth Challenge, transforming Scrooge into a "kinder, gentler man."
The game uses a roll and move mechanic, with aspects of set collecting as well, with some resource management. A nice combo that will add to the replayability of the game.  It looks interesting and has a theme I love. Bah Humbug! Back this today!
The  Kickstarter is up and running now, they are at 26 % of the goal (As of this posting) and have 28 days to go.
This sounds like it's going to be great game for your kids, a great family game, they do expect it to ship BEFORE Christmas, so imagine all the fun your family could have over the holidays as you gather round the table, and roll some dice and have some fun and laughter as you bring the world of Dicken's to life.
Don't be a scrooge! Back early and help this project come to life! And one last Bah Humbg to you all!