Zoo ball is a family fun dexterity game designed for 2-4 players,  that comes from Osprey Games.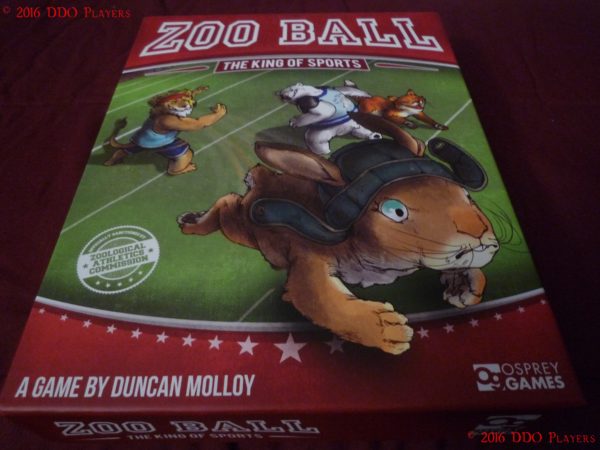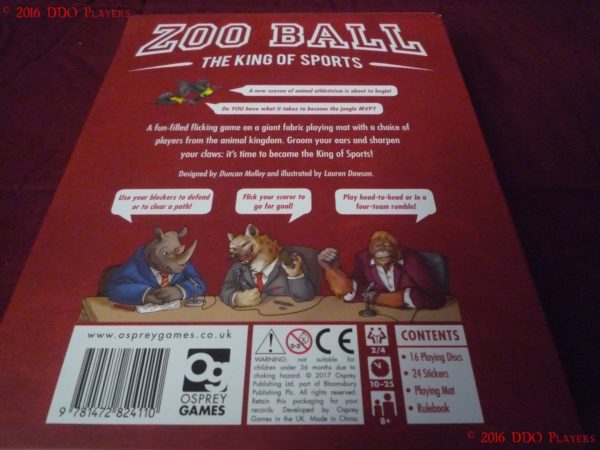 When it's your turn, a  player may either flick all three blockers or, alternatively, the scorer token. Keep in mind though, only the scorer token can register a goal. Blockers can be used to block or to knock other tokens away. After every goal tokens are reset to starting positions and play continues until one team wins the match with 3 goals. The game will normally take you five minutes or so. The box says Zoo Ball is designed for ages 8 and up, it's easy enough to grasp, that I think a younger child could play it if you can teach them how to flick and the very easy rules.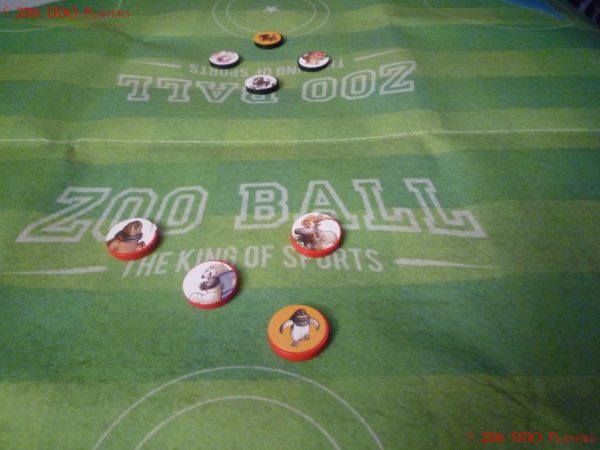 The rules in the book are easy to read and to teach, there is not much to it really, one word about the rule book, they wrote it in a style where former stars of the league, are sharing their antidotes encodes about their time playing zoo ball, that can get a bit confusing, but once you get past that, the rules are precise and very easy to learn and teach as I said.
The components are well made, the wooden disk have a nice feel to them, and they flick easy on the map, the stickers came off easy, other than one that tore a bit, but overall, the colors pop I enjoyed the graphic art style they went with.
My biggest problem is the game filed mat, the quality is very nice of it, that's, not my issue, it's a nice felt feel, it reminded me of a pool table top, to put that in perspective. The biggest problem is the map has been to folded every time to fit the box, which makes sense really, as you have to store the mat, but this causes some issues, you will notice some wrinkles and crinkles here and there, you have to spend a few seconds to try and push those down, I can see this will drive some people crazy, it's really the only negative I have, I wish there was some other way to store the mat, The rulebook states that you should never attempt to iron the mat, so that rules that out,  I also wonder if it will get worse over time of taking in and out of the box.
Zoo ball is a fun take on the dexterity games genres, that has a bit of strategy to it, but keeps the rules light, so it's accessible for all. My minor nitpick aside about the mat, this is fun little game for kids and adults alike, I could see families or groups of friends setting up "leagues" and playing a full season of zoo ball action!
Zoo ball can be purchased direct from Osprey Games Or Via Amazon.
Osprey games provided the reveiw copy of Zoo Ball, this is no way inflcued the outcome of the reveiw in any way.
The above Amazon link is an AFFILIATE LINK, we will get a small percent of your purchase, this is a small way you can help support the site.