To help celebrate our 3rd year anniversry and the 150th Epsidoe of the podcast, we are giving away 4 (Four) 500 DDO Point Codes!
There are 4 (FOUR) Codes up for grabs, you can enter for just one, or all 4.. it's up to you! My the RNG Shine upon you!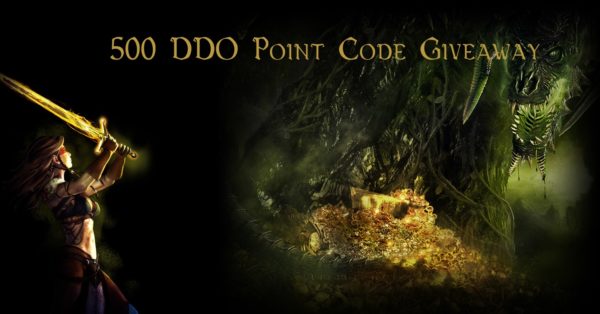 To enter the giveaway(S), use the Rafflecopter widgets below.
Giveaway #1
a Rafflecopter giveaway

Giveaway #2
a Rafflecopter giveaway

Giveaway #4
a Rafflecopter giveaway

Entries will close on October 17th.

The winners will be selected using the random winner selection tool in the Rafflecopter widget.
Digital Prize: The winners will be sent their code through the email attached to the entry.  It is up to the winner to provide a valid email, check their spam folders and receive the email with their code.

DDO Players reserves the right to add or remove entry methods and entries before, throughout and after the giveaway.
All DDO Players website/podcast past or current staff and immediate family are not eligible for this contest.
Help Us Have More Giveaways!
Want to see more giveaways? We need your help! Giveaways are funded by supporting The Players Alliance on Patreon.
Support The Players Alliance on Patreon
We would like to thank all of you for all your support over the years and episodes of the podcast, this website and podcast has morphed and changed from what it was at the very start, I started this site as just a Dungeons & Dragons Online site, and it slowly morphed into what it is today, covering all things Dungeons & Dragons Tabletop, Tabletop Gaming, Video Gaming, And Geekery in general, somehow it works, and people seem  to like it 🙂 So THANKS!
We would like to extend a big thank you to Standing Stone Games, for providing us the codes for this giveaway!