Stranger Things will be invading your tabletop soon, with 3 games coming from Hasbro,  based on the hit Netflix Show. And true to the show, they are well strange.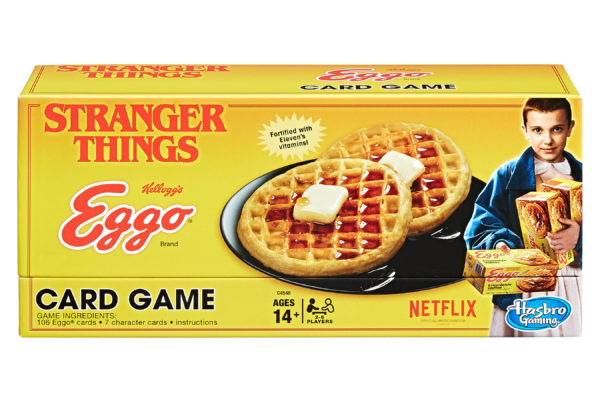 The Stranger Things Eggo Card Game allows you to play as characters from the show: Will, Mike, Lucas, Dustin, Eleven, Hopper, or Barb (RIP Barb, RIP).
You'll be drawing cards which can either send a player's character to the upside down, make an opponent draw 2, reverse the order of play, summon the Demogorgon, or cause a rift that sends everyone who was right side up to the upside down, and vice versa. To win and escape the upside down, get rid of all your Eggo cards before the Demogorgon attacks or be toast!
This sounds to me to be an UNO variant. Plus, How cool is that Eggo inspired box!  includes 106 EGGO-shaped game cards and 7 character cards and will have an MSRP of $14.99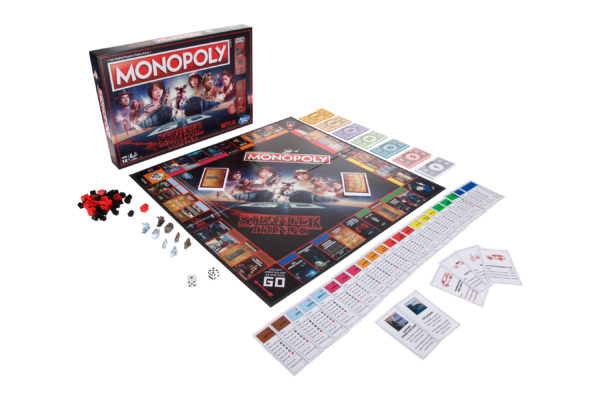 Monopoly Stranger Things Edition. Coming out with an MSRP of $24.99 Monopoly Stranger Things Edition is set in the show's town of Hawkins, Indiana. With a silver bicycle, camera, television, and tennis shoe tokens – and gold versions of each token flipped to represent the upside down – players can explore the stranger things world with themed properties like "Steve's Pool," "Hawkins High School," "Mike's Basement," and more! But, beware! Unexpected dangers only Eleven could predict like the Demogorgon Nest are sprinkled throughout the board game. The Monopoly Stranger Things Edition includes 8 tokens, 28 Title Deed cards, 16 Walkie-Talkie cards, 16 Blinking Lights cards, 32 Forts, 12 Hideouts, 2 dice, money pack, and game guide.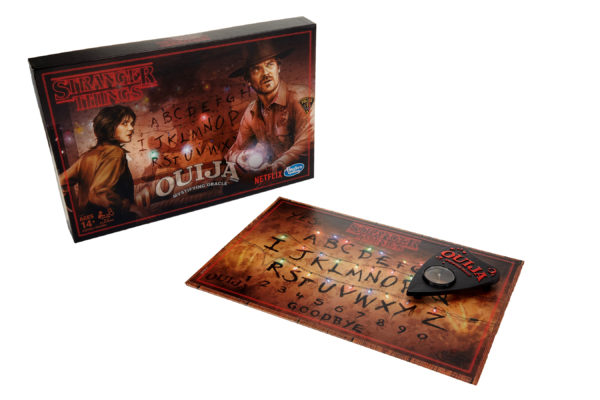 The Stranger Things Ouija will allow you to communicate with those trapped in the upside down through the board. Whether it's Will's welfare or tracking the Monster's whereabouts, the included OUIJA planchette will help you try to gather important answers and keep tabs on Hawkins, Indiana's parallel dimension. The game includes one game board and plastic planchette. MSRP will be $19.99.
Season 2 of Stranger Things will be available for streaming on Netflix on Oct. 27.