Things are getting insane over at Humble Bundle..I mean stupid crazy…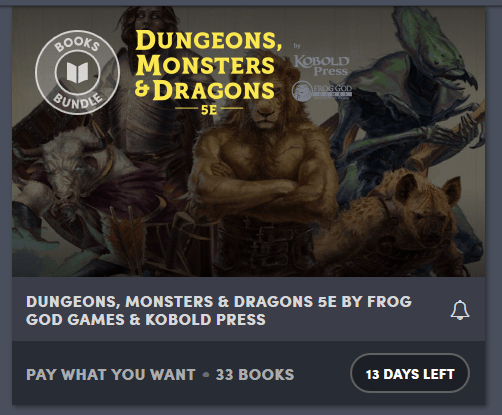 The Humble RPG Book Bundle: Dungeons, Monsters & Dragons 5E by Frog God Games & Kobold Press
Bundles, monsters, and dragons. Oh, and dungeons, too! This new RPG book bundle from Frog God Games and Kobold Press supports the Fifth Edition of everyone's favorite roleplaying game – plus Pathfinder, Swords & Wizardry, and more. You'll score a virtual stack of maps, campaign guides, adventures, and more. So stop dragon your feet and get it already!
Pay what you want. All together, these ebooks would cost over $375. Here at Humble Bundle, you choose the price and increase your contribution to upgrade your bundle! This bundle has a minimum $1 purchase.
That's a ton of great books! Tome Of Beasts is AMAZING and well worth the $17 alone.
As of this post you have 12 days to jump in on this, get great rpg books and support charity as well, it's a WIN-WIN! Head Over to Humble Bundle to pick it up!