We gave a two (2) 500 point turbine codes away, during our last show.
For those of you that could not join us in live in the chat-room, we thought we would also give you the chance to win as well!!
We have TWO (2) 500 Point TP Codes to giveaway!
All you have to do to win is just simply leave a comment to THIS POST!
From now till Monday December 1st at 10:00 Am EST    Contest Is Now Over!
The 2 winners have been contacted via the email they left when leaving there comment. Once I hear back I'll post the winners name, if I don't hear back from them within THREE (3) days I'll draw another winner. I want to make sure these codes are used!
Look for more giveaways for us at DDO Players Soon!
And The Winner Are………

I will then count the number of replies that we have and go to Random.org and draw two (2) numbers.. I will then leave a comment with the winners names. You will then just send in an email to podcast@ddoplayers.com and I'll email your codes!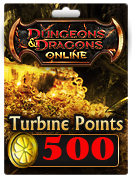 We would like to thank Turbine for the codes. And thanks to all of you for showing us all the support that you have as we launched the site and podcast!
Thanks and good luck!