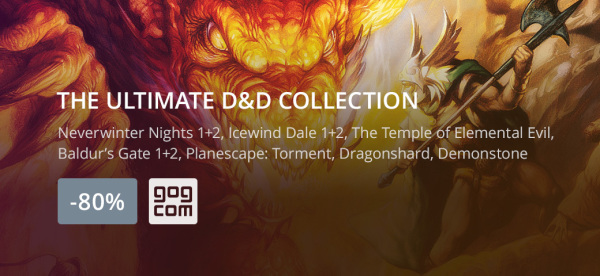 Good Old Games is running a winter sale right now, and there is a fabouls deal on a D&D Collection!
For 21.10 you can get
BALDUR'S GATE: THE ORIGINAL SAGABALDUR'S GATE 2 COMPLETEPLANESCAPE: TORMENTNEVERWINTER NIGHTS DIAMOND

NEVERWINTER NIGHTS 2 COMPLETE

ICEWIND DALE COMPLETE

ICEWIND DALE 2 COMPLETE

TEMPLE OF ELEMENTAL EVIL, THE

DUNGEONS & DRAGONS: DRAGONSHARD

FORGOTTEN REALMS: DEMON STONE
That is a TON of content and great hours of gaming for 21.10!
As of this posting the sale ends in 19hrs.. Head over to GOG to check it out.