Harry Houdini is throwing a dinner party for the world's greatest magicians. To make this evening more special, he has prepared a unique delicacy – poutine! Unfortunately for everyone at the party, Houdini is a terrible cook. Each player must use their skills in magic to escape from the party without hurting Houdini's feelings.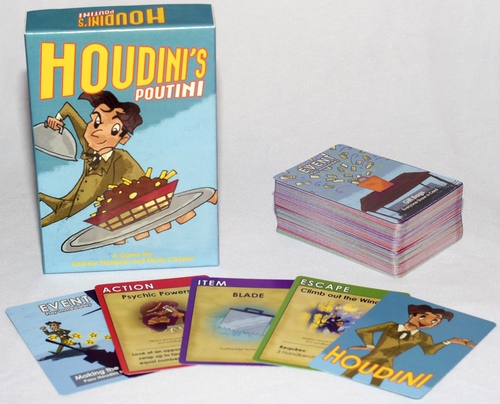 Houdini's Poutini is a competitive game for 2-5 players, where each player represents a troupe of 5 magicians. You must collect a combination of items with which you can perform magical escapes from the party. Houdini will mingle about the party, making it more difficult to escape the party without hurting his feelings. You must use your skills as a magician to get your entire troupe free from the party before time runs out and the poutine is served!
In case you missed it, we did a Preview/Review of the game. The kickstarter has 28 days to go (as of this writing) and is at $1,131 pledged of $2,500 goal
We will keep an eye out and keep your updated!
Podcast: Play in new window | Download (7.3MB)