After Tesla vs. Edison: War of the Currents was a successfully funded Kickstarter from last year.  You would take on the role of the greats like Tesla or Edison as you tried to expand you power supplying empire through research, patenting and selling new technology, and influencing the public's perception of either AC or DC current.
Tesla vs. Edison: Powering Up seeks to expand on the game and make it even better with several new modules you can add into the game and even the option to get a custom wood insert from The Broken Token to organize you game.  The different modules are;
Build a headquarters – you can develop your own custom lab, works, office, and studio which will give you special abilities and bonus points
A 6th inventor to choose from, Madam C. J. Walker, which also expands the player count to 6
Eight female luminaries with more possible in stretch goals
Event cards – these historical events allow you new opportunities, but can also just bring bad news
New propaganda cards
and, Two AI decks to bottom out the player count to 1 or just add more difficulty in 2+ player games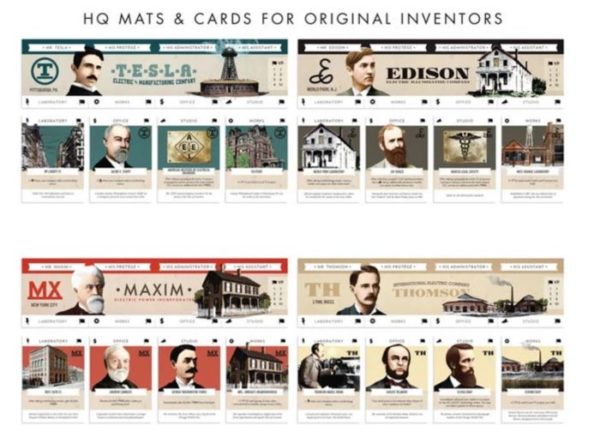 The campaign is already funded and is smashing at the  stretch goals so you can head on over to the Kickstarter page to get your copy. There is also and option for you to get the original game as well, if you don't have that all ready.
We took a quick look at the original game last year at Gen Con, in case you missed that.