WOTC is once again participating in the Extra Life Charity that benefits Children's Miracle Network Hospitals.
Of course there will be the annual  live streamed 24-hour marathon D&D game.
The 24-hour marathon starts at 8am PST on Friday, September 16th, and will feature 6 in-house teams throughout the weekend. Each four-hour game will be live-streamed on the D&D Twitch Channel, and will focus on one of the giant races featured in the newest storyline, Storm King's Thunder, using the 5th edition D&D rules set. The game will conclude at 8am PST on Saturday, September 17th.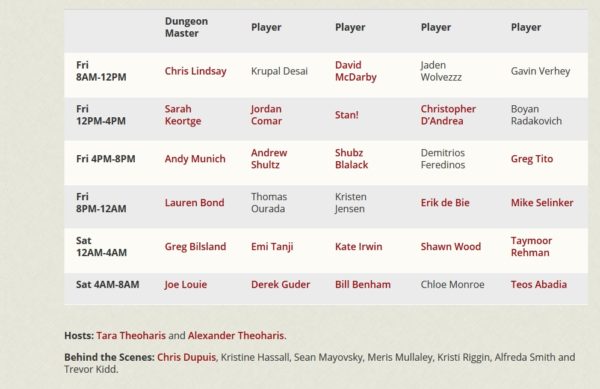 Donors can contribute to Dungeon Masters and players alike to grant them benefits before and during the game. Not only can donors change gameplay, but they can also win D&D swag and exclusive content! Prizes may include rare miniatures, signed TRPG books, and D&D-themed swag. Below is a play calendar, a full list of participating members, and some of their Extra Life pages.
Visit the Dungeons & Dragons Extra Life page for more information on the event, how to contribute.
Also like last year, there will be previews, for goals they meet.