Force Grey Giant Hunters was a huge hit over this summer,  The seven episodes produced and presented by Nerdist earned more than 1.1 million views on YouTube!
If you were like me, you felt that the story's conclusion was left as a cliffhanger. This is about to change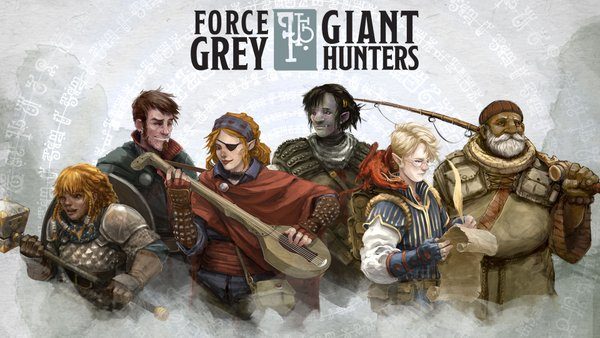 On December 5th, starting at 5pm PT, the cast of Force Grey: Giant Hunters will gather again to Mercer's war-horn call and play D&D in front of a live audience of fans at the historic Egyptian Theater in Los Angeles. Fans local to the area can sign up to watch the show live here.  Those of not lucky enough to see it live, can watch via D&D's Twitch Page
Brian Posehn (The Sarah Silverman Program), Utkarsh Ambudkar (The Mindy Project, Pitch Perfect) and Shelby Fero (Emmy Award-winning writer on Robot Chicken), will return to reprise their roles from Force Grey: Giant Hunters, but there will be some new faces joining the party. Emily V. Gordon, co-writer of the upcoming film The Big Sick and producer of three seasons of The Meltdown with Jonah and Kumail on Comedy Central, will take up arms against the giants. We're also keeping a chair or two open for any surprise friends of the cast to drop in, put on a wizard's hat, and cast magic missile!
"I've been sitting at the edge of my seat hoping to find out what happened to the party after they flew into the skies on a golden chariot towards the cloud giant castle, Like everyone, I can't wait to watch the conclusion to Force Grey: Giant Hunters at the Egyptian. See you there!" Nathan Stewart, director of Dungeons & Dragons