On the show this week, we talk about the return of Festivult and we have some update 34 news, and of course cover the world of tabletop RPGS and Board Games.
Audio Only Listen And Download Link
Podcast: Play in new window | Download (46.3MB)
YouTube Watch Links
---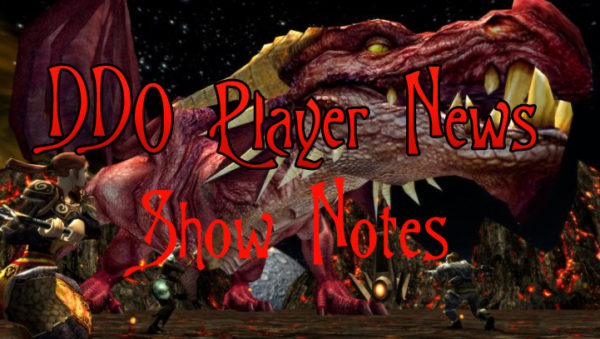 Game News
Update 34 News –
(Current as of Friday (Fridays At Noon Live Stream With Cordovan)
Update 34 PUSHED Back to Jan, due to Reaper not being ready for primetime.
Goal Of Update 34
Free New Quest
Reaper Mode
Char Bank Updates (Allow for sale of more bank space)
World Character Transfer (Tentative)
Bug Fixes
Still planning on a December "Patch"
Store Sales
Free Sample Of The Week December 2nd – 8th
Bigby's Green Guiding Hand x5
Use Coupon Code HELPINGHAND 1/Account
20 % Off
Mirror of Glamering
Raid Bypass Timers
Select Cosmetic Outfits
Hats & Helmets
December Deals! NOW-December 8th
75 % Off
35 % Off
Long Lasting Potion of 10 Physical Resistance x10
50 % Off
Warlock Class
+5 Lesser Heart of Wood
DDO Players News
DDO Players Screen Shot Of The Week #58
From The Dungeon
WizKids Announces D&D Icons of the Realms: Monster Menagerie II
On The Table Top
CMON Is Now A Public Company On The Hong Kong Stock Exchange
Week in Gaming
Drac Week
Cannith
Rogue Lvl 15
House Phiarlan *Elite*
The Spawn of Whisperdoom
The Church and the Cult
Rest for the Restless
Purge the Heretics
Ruins of Gianthold *Hard*
Trial by Fire
Feast or Famine
Ranger Lvl 21
Eveningstar
Rogue Lvl 14  (With Pineleaf)
The Devil's Gambit
Tavern Brawl
Grim and Barett
Subversion
Multitude of Menace
Tabletop
Mansions Of Madness
Cycle of Eternity – Won but it was close. Ready to tackle the next on harder one.
12 Realms
Fun fantasy game, thought I was going to lose, but pulled it out at the last minute, Look for a review of this, coming soon!
Tabletop Video Games
Warlock Of Firetop Mountain
Wow, this is hard, but super fun! Look for a review soon!
Super Dungeon Tactics
Early beta build, Fun, very true to the tabletop counterpart, look for a full review at some point, not sure when I'm allowed to do so!
Pineleaf Week
Gnome warlock Level 14 (with Drac)
Devil's Gambit
The Portable Hole
Subversion
Grim and Barret
Multitude of Menace
Gnome Warlock Level 7
Temple of Elemental Evil, Part 1
I decided that for a change, I will go after the earth key without getting the club first
I had the four keys before I decided it was time to fight. Hireling RAN to the shrine
Died in the boss fight – I did get three elementals downs
Warfighter WWII
Attempted the shortest scenario with a larger force.

I cleared out the first location on the first turn.
I destroyed the objective on the second. What? I actually won?
Perfect draw: Silver Bullet, Move Out x2, Stay Low, and two others
Arkham Horror: The Card Game
Learned the rules and played the first two scenarios.
There is one more scenario in the campaign
Annoying that class icons are in differing parts on the cards
I find it interesting that there is a resign mechanism if you decide it is best to quit the field
Aeon's End
Package deliveries before 8:00 AM?
A few unusual mechanisms

Variable turn order
The discard pile is not shuffled when it becomes the new deck
Delay when casting spells

The game has several bosses of varying difficulty
The game also includes rules for adjusting challenge
My first game was tight and I barely came through it on probably the easiest boss
Minecraft
Started on the subway tunnel
Finally gained a cartographer and gained a map – a long way out
Found a guest home in an out-of-the-way location
Donations
We currently have 24 supporters on Patreon. If you would like help support DDO Players, simply go to the donation page where you can support The Players Alliance on Patreon.  There you will find rewards including a mention on the podcast of your choice, or even guest for an episode on DDO Players News.
Feedback
iTunes Reviews
This week we did not receive any reviews but would love your support!
Featured Comments
ComicRelief Left A Comment On WizKids Announces D&D Icons of the Realms: Monster Menagerie II
Pre-painted?? Where's the fun in that? Half the fun with miniatures is painting them yourself. Although, I can see where 'pre-painted' could be nice for some.
😉
Marty Walser From The Raging OwlBear Blog Left A Comment On Classic D&D Books Now Back Thanks To Print On Demand
Elemental Evil Players Companion is still free as a PDF, even on dmsguild.com.
Emails
This week we have no emails.
Contact Us
Email us!
podcast@ddoplayers.com
Follow us on Twitter!
The Players Alliance @PlayersAlly
DDO Players @DDOPlayers
Draculetta @Draculetta_72
Pineleaf @PineleafNeedles
Final Thoughts
The Players Alliance LIVE Shows
Mondays at 8:30 p.m. Eastern – DDO Players News
Every Thursday at 9:00ish  p.m. Eastern – XP Quest
Saturdays at 8:30 p.m. Eastern – LOTRO Players News
Last Friday of each month at 8:30 p.m.   – LOTRO Academy: After School
Join Us For Our Live Shows! ddoplayers.com/live/