In DDO We talk update 35 Patch 3, From the dungeon we have our review of Tales From The Yawning Portal, A computer game from back in the day comes to the tabletop!
Audio Only Listen And Download Link
Podcast: Play in new window | Download (83.8MB)
YouTube Watch Links
---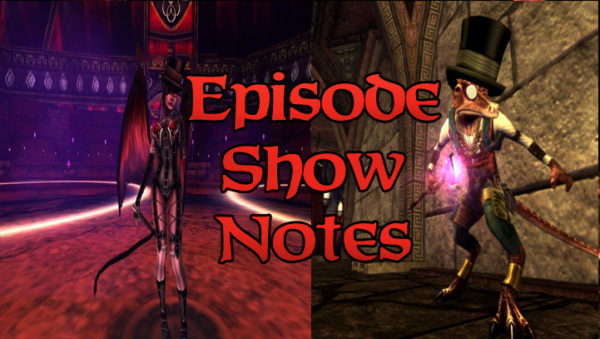 Game News
Update 35 Patch 3 Release Notes
Store Sales
Free Sample Of The Week April 7th – 13th
Bigby's Red Guiding Hand x5 Use Coupon Code REDHANDED 1/Account
25 % OFF
Crafting Essences
Crafting Experience Elixirs
Crafting Success Boosters
Collectibles Crate
DDO Players News
DDO Players Screen Shot Of The Week #62
From The Dungeon
Tales From The Yawning Portal Review
Joe Manganiello Wants To Make An Dungeons & Dragons Movie
On The Table Top
Fighting Fantasy Legends Coming From Nomad Games
Trilobyte Games Brings the 7th Guest To The Tabletop
Week in Gaming
Drac Week
Cannith
Rogue Lvl 16
The Harbor
Servants of the Overlord
The Spinner of Shadows
Beyond the Rift
Ranger  14 (Gnome – Static Group With Mythery, Sahba Jade, Rent2Pwn, Cad) With a guest Lessah
Ruins of Gianthold *Elite*
A Cabal for One
Gianthold Tor
Rogue Lvl 15  (With Pineleaf)
Reaver's Refuge
Monastery of the Scorpion
Pineleaf Week
Human Monk (Past Art) Level 11
The Ruins of Threnal
In Need of Supplies
The Rescue
Secure the Area
The Library of Threnal
Escort the Expedition
Hold for Reinforcements
The Missing Expedition
Entering the Gate Chamber

Evil giving the shrine just BEFORE a beholder
Couldn't hit the target for the far bridge so I jumped instead.

The Gate Chamber
The Giants' Lair
The Giants' Supplies
The Threnal Arena
The Giant Lieutenants
Delara's Graveyard
From Beyond the Grave (Average difficulty??? Yeah, right!)
Gnome warlock Level 16 (with Drac)
Reaver's Refuge
Soami Gardens
Monastery of the Scorpion
Tabletop
Played several rounds of Onirim to try out all of the optional modules.
In Deep Space D-6, I finally played with the boss. I won one in three.
MST3K
Donations
We currently have 23 supporters on Patreon. If you would like help support DDO Players, simply go to the donation page where you can support The Players Alliance on Patreon.   There you will find rewards including a mention on the podcast of your choice, or even guest for an episode on DDO Players News.
Feedback
iTunes Reviews
This week we did not receive any reviews but would love your support!
Featured Comments
This week we have no featured comments
Emails
This week we have no emails.
Contact Us
Email us!
podcast@ddoplayers.com
Follow us on Twitter!
The Players Alliance @PlayersAlly
DDO Players @DDOPlayers
Draculetta @Draculetta_72
Pineleaf @PineleafNeedles
Final Thoughts
The Players Alliance LIVE Shows
Mondays at 8:30 p.m. Eastern – DDO Players News
1st and 3rd Fridays 11pm. Eastern – XP Quest
Last Friday of Every Month – LOTRO Academy After School
Saturdays at 8:30 p.m. Eastern – LOTRO Players News
Join Us For Our Live Shows! ddoplayers.com/live/