One of the most popular versions of Axis & Allies is making a return to shelves today, as WOTC & Avalon Hill announced that the reprint of the Axis & Allies Anniversary Edition is out today!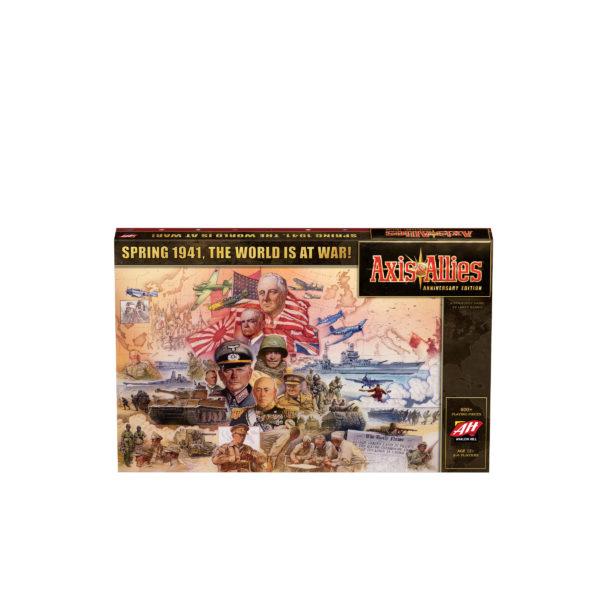 The Axis & Allies community has wanted to see this version back in print for a long time, and we're happy to be able to give that to them, Fans will be pleased to see that it is the same great game they remember, plus welcome errata and FAQ added to the rulebook." Shelly Mazzanoble, Brand Manager for Avalon Hill.
This is what many call the "Definitive" edition to own and play.
You can buy or order it from your FLGS
Or order via Amazon
The A&A Anniversary edition features over 650 components including the following:
Game Boards:

3 Game Boards
1 Battle Board

Game Charts:

6 National Setup Charts (one for each power)
1 National Production/Research & Development Chart

Markers & Tokens:

120 National Control Markers
22 Damaged Factory Markers
18 Researcher Tokens
18 Victory City Tokens

Storage: 8 Boxes Total

6 Nationality boxes
2 Community Boxes

Dice: 14 Total
Plastic Chips: 80 Total
Paper Money: 90 Bills Total

30 One IPC Bills (green)
30 Five IPC Bills (red)
30 Ten IPC Bills (blue)

Plastic Miniatures: 672 Total
Common Units (Light Gray):

24 Industrial Complexes (factories)
24 AA Guns

USA (Green):

25 Infantry
12 Artillery
12 Tanks
12 Fighter
8 Bomber
4 Battleship
6 Aircraft Carrier
8 Cruiser
10 Destroyer
10 Submarine
10 Transport

United Kingdom (Tan):

25 Infantry
10 Artillery
10 Tanks
12 Fighter
8 Bomber
4 Battleship
4 Aircraft Carrier
8 Cruiser
10 Destroyer
10 Submarine
10 Transport

USSR (Maroon):

25 Infantry
14 Artillery
14 Tanks
12 Fighter
4 Bomber
2 Battleship
2 Aircraft Carrier
4 Cruiser
6 Destroyer
6 Submarine
6 Transport

Germany (Gray):

25 Infantry
12 Artillery
14 Tanks
12 Fighter
6 Bomber
4 Battleship
2 Aircraft Carrier
6 Cruiser
10 Destroyer
12 Submarine
8 Transport

Japan (Orange):

25 Infantry
10 Artillery
8 Tanks
12 Fighter
6 Bomber
6 Battleship
6 Aircraft Carrier
8 Cruiser
10 Destroyer
10 Submarine
10 Transport

Italy (Brown):

20 Infantry
6 Artillery
6 Tanks
6 Fighter
4 Bomber
2 Battleship
2 Aircraft Carrier
2 Cruiser
6 Destroyer
6 Submarine
4 Transport

China (Light Green):
*The Amazon link found above is an AFFILIATE link, DDO Players will receive a small percent of the sale, this is another way you can help support the site*