IDW Games announces the social deduction board game, Edgar Allen Poe's Masque of the Red Death. Coming to Kickstarter on January 10th 2018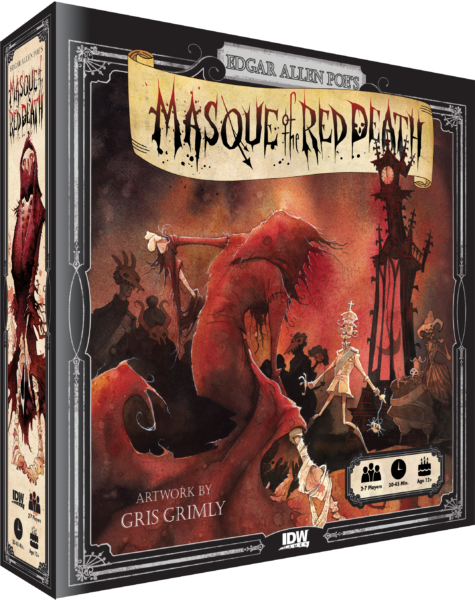 Based on Edgar Allen Poe's story, Masque of the Red Death pits you and 4 to 7 players against each other as you hobnob with the Prince. But disaster strikes at midnight! Players have to balance their actions carefully between currying the Prince's favor and discovering what rooms the Red Death will visit. After all, the highest social standing only matters if you survive.
"Gris Grimly has done an incredible job of creating the tone with his fascinating art style and understanding of the story being told. Partnered with Adam Wyse's thematic game design, this game is sure to give players a wonderful experience fitting right into Edgar Allen Poe's world." Jerry Bennington, VP of New Product Development
The game is for 2 – 7 players, ages 12 and up, and plays in 30 -45 minutes. The game is planned as a Kickstarter, this social deduction game of popularity and danger, Masque of the Red Death will be launching on January 10th 2018 and will be available in stores soon after fulfillment.