This week we talk about the patch and hotfix. And we have some news on the Dungeons & Dragons movie.
Audio Only Listen And Download Link
Podcast: Play in new window | Download (58.2MB)
YouTube Watch Links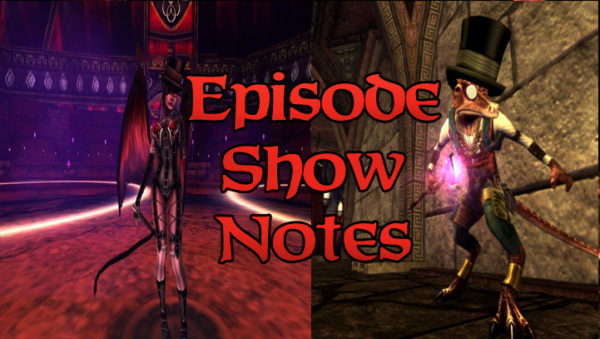 Game News
Update 37 Patch 1 Release Notes
Update 37 Hotfix 2 Release Notes
Producers Letter Coming Next Year
DDO Players Interview With Voice Actor Ally Murphy
Store Sales
20% off:
Astral Shards
Guild Renown Elixirs
50% off:
Guild Charters
Guild Airship Beacons
Double Bonus Points:
Now through January 1st in the DDO Store
Menace of the Underdark and Shadowfell Conspiracy are back in the DDO Market
Find them at 75% off, now through January 1st!
December Deals Week 4:
75% off Epic Destinies
50% off Shared Bank and Deep Gnome Iconic
25% off the Mines of Tethyamar Adventure Pack
+7 Ability and Supreme Ability Tomes are now permanently available in the DDO Store!
Otto's Boxes are back! Find Heroic and Epic Otto's Boxes in the DDO Store through January 1st.
Free Sample Of The Week NOW – December 28th
Red and White Bigby's Hands x5
From The Dungeon
Gen Con Announce Changes To Badges For 2018
Dungeons & Dragons Movie Release Date, And New Studio Announced
On The Table Top
Warhammer 40,000 Invades WizKids' Dicemasters
On The Screen
Week in Gaming
Drac Week
Warlock Lvl 13
Mists of Ravenloft
The Vampire Hunters
Oath of Vengeance
A Raven at the Door
A Mad Tea Party
Sealed in Amber
The Light of the Land
The Final Vintage
Wrath of the Earth
Ravens' Bane
Sunrise
Ranger Lvl 13 With Pineleaf
Mists Of Ravenloft
An Invitation to Dinner (Managed to finish it despite a little misstep)
Oath of Vengeance
Video Games
Survive The Nights Alpha Early Access For Review (After it's released)
Pineleaf Week
Human Druid 10 (with Drac)
Mists of Ravenloft
An Invitation to Dinner (Managed to finish it despite a little misstep)
Oath of Vengeance
Halfling Paladin 10 (Youtube Series)
Mists of Ravenloft
Minecraft
Found a skeleton spawner and turned into an XP farm.
Created a double cave spider farm.
Completed Dungeon Level 1 of the Temple and recorded a two-part tour.
Tabletop Games
One Deck Dungeon: Forest of Shadows – Warden vs TheMudlands
Donations
We currently have 19 supporters on Patreon. If you would like help support DDO Players, simply go to the donation page where you can support The Players Alliance on Patreon.   There you will find rewards including a mention on the podcast of your choice, or even guest for an episode on DDO Players News.
Feedback
iTunes Reviews
This week we did not receive any reviews but would love your support!
Featured Comments
From Mok Taskmaster On Gen Con Announcement
I'm all about simplifying things, if they're complicated – BUT, this doesn't seem more complicated than it used to be, except for the Sunday Family badges. They fail to mention that this 'simplification' is now more expensive. More expensive is fine, but to camouflage it in saying they did it for simplicity sake is sounds dishonest.
Raising the prices of the 4-day badge by $20, is significant. Cutting off 'on-site' and after pre-registration badge sales is not going to do anything – remember Gencon 2017 (Gencon 50) sold out long before the show started. So, not having sales AFTER the pre-registration window does almost nothing.
Gencon 50 had approximately 60,000 unique visitors, lets do some fun math. Lets just say a third of those were 4-day badges. 20,000 4-day badges sold. This year, increasing the price $20 is a pretty big increase in revenue for Gencon LLC – $400,000. Granted yes, I'm absolutely POSITIVE that Indy is charging them more, and probably a LOT more based on their sell-out numbers last year.
I don't mind paying the extra $20 per badge at all, prices often go up (which means an extra $60 since I buy 3 badges for me and my two sons). The previous Gencon 50, and the Gencon 2016 badge prices were the same. What I am perturbed about, is that they're trying to use their marketing speak in hiding the fact that they're increasing costs in such a way. They absolutely know we're gamers by nature and can, and do, sniff this kind of BS out easily.
All that said. Can't wait until August! 🙂
Oh, and I'll probably have to purchase badges earlier than ever this year, if the sell-out last year is indication.
**** Last Year's "Complicated" Pricing:
Badge Type Pre-Registration Price Standard Price
4-Day (Sold Out) $90 $120
Thursday (Sold Out) $55 $75
Friday (Sold Out) $55 $75
Saturday (Sold Out) $55 $75
Emails
This week we have no emails.
Contact Us
Email us!
podcast@ddoplayers.com
Follow us on Twitter!
The Players Alliance @PlayersAlly
DDO Players @DDOPlayers
Draculetta @Draculetta_72
Pineleaf @PineleafNeedles
Final Thoughts
The Players Alliance LIVE Shows
Mondays at 8:30 p.m. Eastern – DDO Players News
Saturdays at 8:30 p.m. Eastern – LOTRO Players News
Join Us For Our Live Shows! ddoplayers.com/live/