Turbine and DDO are now taking applications for the 2016 Players Council.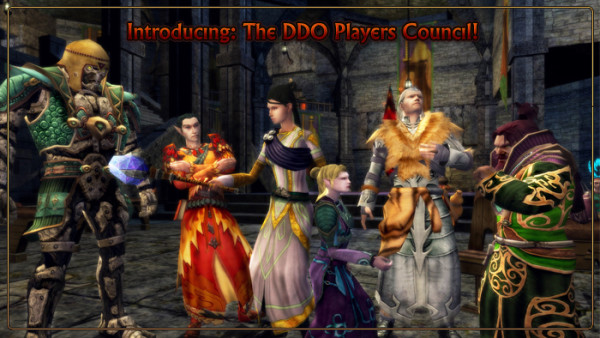 We are now taking applications for the 2016 DDO Players Council! We'll be taking your applications through the end of the day on Tuesday, January 19th, 2016. Thanks, and good luck!
What is the DDO Player Council?
The DDO Player Council is a group of players selected to provide targeted feedback and valuable suggestions to the DDO Team. This will involve participating in surveys, focused discussions, as well as highly structured and targeted developer chats. Often the topics covered will be elements of game design at their earliest stages, well before they are committed to development or appear in our preview programs like Lamannia.
Don't want to join yourself? Recommend a fellow player you feel will be a positive addition to the council. We may also select players based on their in-game and community behavior, and extend an invitation even if they have not otherwise applied or been nominated. Membership in the council is intended to be yearly, and new members will be added annually.
Requirements for Applicants and Nominees:
• Maintain an active play style during the council's term of service. ("Active" to be determined by Turbine at its sole discretion.)
• Be in generally good standing, with no significant violations of Turbine's Terms of Service, End User License Agreement or Community Guidelines. Having forum infractions does not mean you can't apply or serve, but is something we will consider on a case-by-case basis.
• Council business will be conducted primarily in English. Therefore we request applicants have the ability to communicate with the team and each other via written and spoken English.
• Be able to interact with other members of the Council and Turbine employees in a mature, constructive, and mutually respectful manner.
You will of course be under and NDA for anyhting that you see or work on.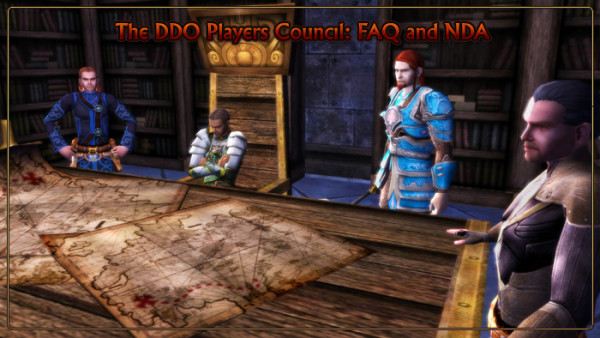 • Serve for the calendar year in which they are elected.
• Participate in private chats and other scheduled events with the DDO Team.
• Provide feedback to the DDO Team as requested.
• Comment, from time to time, on aspects or elements of upcoming changes before they have reached an Alpha state, and prior to their testing on the Lamannia preview server.
• Assist the Community Team in identifying suggestions and recommendations from the community that match the goals set for the Council.
• Make suggestions and recommendations in accordance with goals set for the council by the DDO Team.
• Participate in and help design focused feedback surveys for the council and the general community.
• From time to time, be asked to help draft a report on the council's activities for publication to the entire community.
• Be guaranteed access to all Beta tests during their term.
• Be provided a private discussion area for interacting with the DDO Team.
• Receive courtesy invitations to player parties or other similar events that take place during their term. (Travel and other expenses associated with these events are the responsibility of the individual.)
Head over HERE to apply
Good luck to all those that apply!