The teasing is over! It's official!
In 1983, Tracy and Laura Hickman introduced gamers to the mist-shrouded duchy of Barovia and its ruler, Count Strahd Von Zarovich. One of my favorite adventures of all time!
Today, Wizards of the Coast announced Curse of Strahd, a new Dungeons & Dragons adventure set in Castle Ravenloft and the surrounding land of Barovia. Written in collaboration with Tracy and Laura Hickman, the authors of the original Ravenloft adventure published in 1983, Curse of Strahd pits players against the vampire Strahd von Zarovich. Curse of Strahd will be available to everyone on March 15, 2016.
Chris Perkins Says
"Revisiting the land of Barovia with the creators of the original Ravenloft adventure has been a highlight of my professional career,"
He goes onto say
"Tracy and Laura Hickman created a timeless villain whose faults reflect the darkest traits of humanity. I can't begin to describe what it's like to walk through the halls of Castle Ravenloft with its creators as your guides."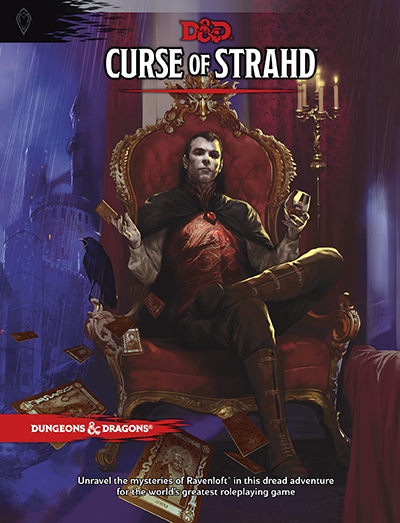 Heroes from the Forgotten Realms and other D&D worlds can easily be drawn into Strahd's cursed land. Once there, they must contend with the horrors of Barovia. Its people are melancholy, misshapen and grotesque, living in fear of the wolves and other creatures that serve Strahd's evil will. The only hope for the trapped adventurers is to heed the warnings of a mysterious fortune-teller named Madam Eva. Drawing random cards from her tarroka deck, she directs adventurers to search Strahd's domain for artifacts and allies to help the master of Castle Ravenloft. That is, before he orchestrates your demise for his amusement and feasts on your terror.
Would you like Madam Eve to read your fortunes while you wait?
While waiting for the adventure, experience the power of Madam Eva for yourself. D&D fans can have their own distinct fortunes read each day by retweeting the official @Wizards_DnD Twitter account using the hashtag #DNDFortune. Madam Eva's fortunes are based on which random card she draws from her tarokka deck and displays for each reading. Check back each day with Madam Eva to see what your #DNDFortune will foretell.
And speaking of that Trokka deck
Gale Force9 will be producing  a deck to use in your game! (We will post more information as we get it)

Curse of Strahd is up on for 49.95 on Amazon for Preorder now!
*Update*
Chris Perkins talked with Geek & Sundry
 "There is a starter adventure that goes from levels 1 to 3 in Barovia, and the heart of the adventure takes you as high as level 10, The adventure promises paths in for players in the Forgotten Realms or homebrew worlds looking to add some Gothic horror and garlic to their campaigns."
He also says
"What we've done in Curse of Strahd is given you a bigger sandbox. The land of Barovia is more detailed than it has been previously, and there are more cool places to go and more cool people to meet, and a mechanism to guide you."
*Update #2*
We got some more images via a press release sent to us from WOTC