A few weeks we ago, we told you there was Harry Potter themed deck building game in the works from USAopoly & Warner Brothers. At the time of that posting, we did not much about the game. Now we have some juicy details.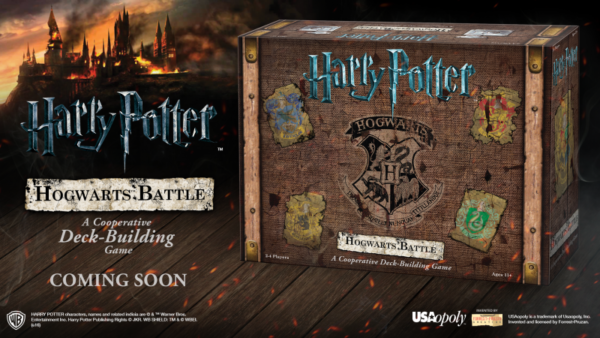 The forces of evil are threatening to overrun HOGWARTS™ castle in this new cooperative game! It's up to four students to ensure the safety of the school by defeating villains and consolidating their defenses. Players take on the role of a HOGWARTS student: Harry, Ron, Hermione or Neville, each with his or her own personal deck of cards. To secure the castle from the forces of evil the students must work together to build more powerful decks using iconic Wizarding World characters, spells, and items.  Defeat all the villains including He-Who-Must-Not-Be-Named and win the game!
Play together as your favorite heroes! Harry, Ron, Hermione or Neville
Relive the excitement of the Wizarding World as you battle evil forces to defend HOGWARTS™
Become a more powerful wizard as you learn new spells and acquire more allies and items
Unlock new secrets and challenges with each successive game adventure
Players can preview and play the game for the first time at GenCon in Indianapolis, August 4-7, 2016. A limited number of copies will be available for sale and fans will receive exclusive extra cards with purchase.
The game will release September 2016 with an MSRP of 49.99