UPDATE – DDO Players received the following statement from Warner Bros. Interactive Entertainment:
"Turbine is transitioning into a free-to-play, mobile development studio, and as a result we are eliminating some positions. The Lord of the Rings Online and Dungeons and Dragons online games will continue to operate as they do now. Re-focusing and reducing the studio size was a difficult decision for the company, and we are grateful to all of the Turbine staff for their considerable contributions."
No mention of who, how many and from which teams were let go.
— Original Story —
It looks like the Turbine team was hit with another round of layoffs today.
Former LOTRO Community Manager Rick "Sapience" Heaton tweeted:
Thoughts with #Turbine , #DDO and #LOTRO peeps today. If I can help, let me know. ☹️

— Rick Heaton (@rickheaton) July 7, 2016
@KurganNazzir looks like it. No idea who or how many or from what teams. Just saddened to see friends out of work.

— Rick Heaton (@rickheaton) July 7, 2016
He also posted on his Facebook: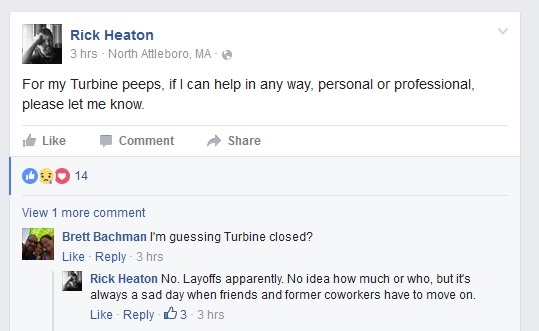 I've reached out to both Turbine and Warner Brothers  for an official statement, I'll update this posting if I get anything "Official" from them
Thoughts go out to all those that are affected, if this is indeed true.