We talk about U32 On Lamannia, and of course the latest Tabletop news
Audio Only Listen And Download Link
Podcast: Play in new window | Download (70.6MB)
YouTube Watch Links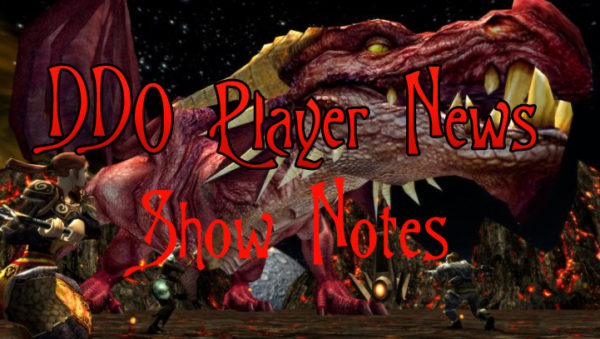 Game News
Update 32 on Lamannia: Cannith Crafting Preview
Lamannia Release Notes (Last Updated 8-11-16)
Store Sales
Free Sample Of The Week August 12th – 18th
Long Lasting Bear's Stamina Potion x5 Use Coupon Code BEARSTAMINA 1/Account
20 % OFF
Select Adventure Packs
Quest XP Elixirs
DDO Players News
DDO Players Screen Shot Of The Week #54
DDO Players – Battle Monkeys Review
DDO Players – Beneath Nexus Review/Preview
DDO Players – Pathfinder Roleplaying Game: Horror Adventures Review
DDO Players – Mystic Vale Review
DDO Players Gen Con 2016 Grant Wilson Rather Dashing Games Interview
DDO Players Gen Con 2016 Mage Company LTD Interview
From The Dungeon
Force Grey: Giant Hunters Episode 5 Awakening Calliope the Bard
Gen Con 2016 Shows Increased Attendance
Dungeons & Dragons 5E proves to be a sales monster
On The Table Top
Ghosts Love Candy Coming From Steve Jackson Games
Ultimate Werewolf Legacy Coming From Bezier Games
Sola Fide: The Reformation Coming From Stronghold Games
Sharknado: The Board Game Kickstarter Is Live
Week in Gaming
Drac Week
Cannith
Rogue Lvl 9 (With Pineleaf)
Tangleroot Gorge
First Strike (Elite)
The Hobgoblins' Captives
Yarkuch's War-plans
Whisperdoom's Spawn
The Deadly Package: The Stronghold Key
The Deadly Package: Agent of the Darguul
Board Games
Battle Monkeys
Mystic Vale
Beneath Nexus
Goonies Adventure Card Game
Tunnels And Trolls
Dragon's Dungeon
Deathtrap Equalizer Dungeon
Naked Doom
The Toughest Dungeon In the World
Grimtina's Guard
The GROGNARD Files – Tunnels & Trolls Podcast  (Drac talked about this podcast)
Dungeons & Dragons 5E
DM prep work for DDAL4-01 Suits of the Mist
Pineleaf Week
Gnome warlock Level 9 (with Drac)
Tangleroot Gorge
First Strike (Elite)
The Hobgoblins' Captives
Yarkuch's War-plans
Whisperdoom's Spawn
Reached level 10
The Deadly Package: The Stronghold Key
The Deadly Package: Agent of the Darguul
Warforged Warlock Level 7
Temple of Elemental Evil, Part 1
Again, the warforged is having a tougher time than other characters. Died in boss fight.
ESO
Played my sorcerer with Branick and Teriadwyn.
The only quest I recall involved a woman who was ensnared by a Trojan Mirror.
Minecraft
Built a cave spider farm.
Got killed while trying to clear the area but I had spent all xp just before that happened.
A group of villagers have migrated all the way from their home to my base.
Donations
We currently have 27 supporters on Patreon. If you would like help support DDO Players, simply go to the donation page where you can support The Players Alliance on Patreon.  There you will find rewards including a mention on the podcast of your choice, or even guest for an episode on DDO Players News.
Feedback
iTunes Reviews
This week we did not receive any reviews but would love your support!
Featured Comments
Eric (Developer From) Devious Devices Left a comment on Sharknado: The Board Game
Thanks for sharing! We already had a fantastic reception at Gen Con and are looking forward to working with the community to shape the game to their standards.
Emails
This week we have no emails.
Contact Us
Email us!
podcast@ddoplayers.com
Follow us on Twitter!
The Players Alliance @PlayersAlly
DDO Players @DDOPlayers
Draculetta @Draculetta_72
Pineleaf @PineleafNeedles
Join Our Steam Group!
Final Thoughts
The Players Alliance LIVE Shows
Mondays at 8:30 p.m. Eastern – DDO Players News
Thursday at 9:30 (ISH) p.m. Eastern – XP Quest
Saturdays at 8:30 p.m. Eastern – LOTRO Players News
Every other Saturday after LPN – Tales of the Free Folk
Last Friday of each month at 8:30 p.m. Eastern – LOTRO Academy: After School
Join Us For Our Live Shows! ddoplayers.com/live/