MAGE Company is bringing Carrotia to Kickstarter on August 25th, with a 2 week window to pledge.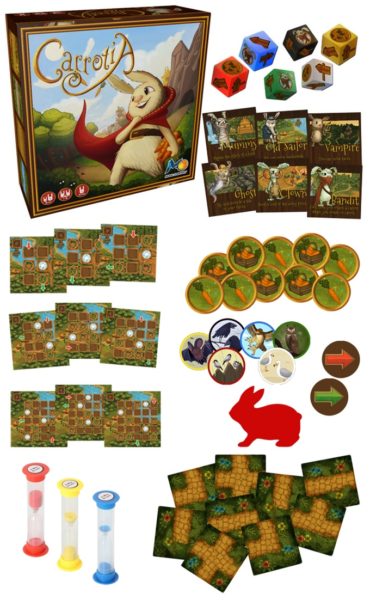 Carrotia, is a light co-operative, tile placement game for 1-6 players where the team collectively works together against a timer to build three different mazes of increasing size. The master rabbit needs to dash from entrance to the exit within a specific number of moves according to the current mission card, scooping up the precious carrots while avoiding the owl, hawk and other birds as they swoop low over the zones causing mayhem and mischief.
Although the task may seem daunting, the master rabbit has some supporters, other rabbits that bring a unique special ability to assist the team and and thwart the hungry predators!

What's an Kickstarter without stretch goals right?
Each Stretch Goal will generate a new expansion. Each expansion will be delivered to you in a separated brand new box with its own cover. The standard components in those expansions are 25 new maze/albyrinth tiles, 5 new rabbit characters, new carrot tokens but also each expansion hides few more new components and a new or different game. We add a mechanic or play with some of the rules, therefore carrotia can be your next favorite family game
We will be sure to link the kickstarter when it goes live, you can get a sneak peek at the page now though, by clicking HERE
We had a talk with Founder and General Manager Alex and Gen Con, We did talk a bit about the game. You can watch that HERE