Rumor has it that the unexcavated pyramid which you (Professor B.Gammon) have discovered houses the King's Chamber, which contains the riches of Ancient God Anubis. Together with your assistant Seneto, you attempt to navigate the ancient pyramid maze to locate the treasure. Unfortunately, the entrance is only barely large enough for your trusty dog Ludo to enter.
Unable to enter the maze yourself, you have to choice but to borrow the powers of the Mask of Anubis. The artifact grants you vision of the maze, which you must use to guide Ludo towards the treasure. Will your visions lead you to the riches of Anubis, or will your partner be lost forever in the ancient maze? Put on the mask and begin!

Using a pair of virtual reality goggles and a unique smartphone app, players "enter" a mysterious pyramid holding the Treasure of Anubis, and must work together to navigate through the ancient maze inside. Featured at major events like Essen Spie in Germany, Mask of Anubis is in great demand around the world.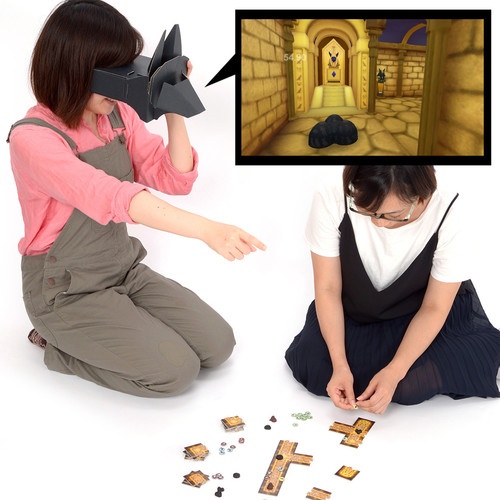 Find your way to the King's Chamber in the Mask of Anubis board game! It's designed for between 2 and 7 players and takes between 30 and 60 minutes to play.
One player goes through a maze trying to find the King's Chamber while the remaining players create a map based on that player's descriptions. What makes that awesome, though, is that the maze-wanderer wears a VR Anubis Mask and actually sees the maze around them! All you need to do is download the app on your phone and you're good to go!