The first game from a brand new company, Scratchpad Publishing will be Dusk City Outlaws, a tabletop roleplaying game set in the sprawling fantasy city of New Dunhaven.
Before we tell you more about Dusk City, let's talk about who Scratchpad Publishing is. Rodney Thompson. Yes THAT Rodney Thompson is the founder of Scratchpad Publishing. A 15-year veteran of tabletop role playing game and board game design, he was part of the core design team for the fifth edition of Dungeons & Dragons. His design credits include Thornwatch, the Dungeons & Dragons 5th Edition core rule books, the Star Wars Role playing Game Saga Edition, Lords of Waterdeep board game and its expansion, Scoundrels of Skullport, the 4th Edition Dark Sun Campaign Setting and Dark Sun Creature Catalog, Monster Vault, and d20 Future. Rodney currently works as a senior designer on the Destiny video game franchise at Bungie, Inc.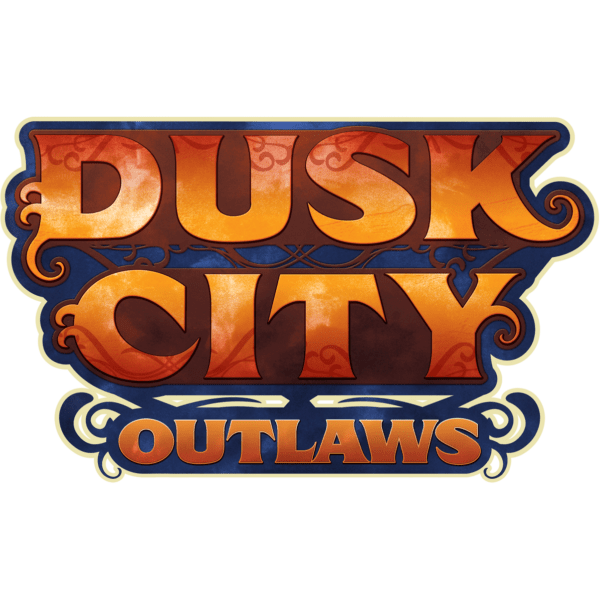 Dusk City Outlaws is an out-of-the-box game, designed to be pulled off of your game shelf and played on short notice, with little prep work and time required by the players. One player takes on the role of the Silver Judge (in the vein of the Game master from traditional tabletop RPGs), while the rest create characters that are members of the city's criminal underworld, drawn together to pull off daring, dangerous, and lucrative heists and other crimes.
Each player makes a character by picking one of the city's eight cartels, and one specialty role on the team. These two aspects of the characters are represented by 4″ x 8″ cardboard player mats that, when placed next to each other on the table in front of you, give you everything you need to play your character. You'll also want a character sheet, which you can use to write down your character's name, aspects, and track resources, so that if you end up playing another session and want to continue with the same character you can pick up right where you left off.
Most of all, Dusk City Outlaws is a game where the players are in control of the plan and executing it. There's no "correct" way to pull off the job. There's no "right" plan that the Judge leads the players to execute. Instead, the Judge merely lays out the facts before the players, and it is up to these fine, capable criminals to come up with a plan, do the legwork to put it into motion, and then execute the plan if they can. The game's environment and scenarios are an urban sandbox, giving the players both freedom and creative control over the nature of the setting.
They plan to launch a kickstarter soon. We will keep you updated